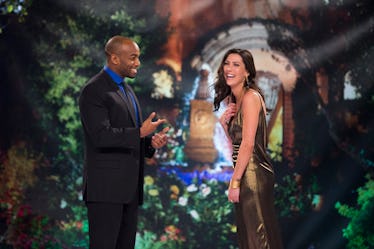 Everyone Wants To Know How Much 'The Bachelorette' Makes, So We Did Some Research
ABC/Paul Hebert
It's no secret that contestants on The Bachelor aren't paid for their time on the show, but now that Becca K. is set to be the next Bachelorette, all that is about to change. Depending on the year, the Bachelor or Bachelorette can make as much as $250,000 for starring in the mega-successful reality show, and considering that Becca's popularity is at at all time high, I'm thinking that she's going to see a big pay day from ABC. So, what is Bachelorette Becca's salary? We don't know the exact amount, but let's just say that Becca probably won't be returning to her publicist job any time soon.
According to PopSugar, there's no set salary for the Bachelor or Bachelorette. Instead, the show's producers hand out different amounts of money (like, really different) depending on that season's star. On the higher end of the spectrum is Emily Maynard from The Bachelorette Season 8 (fans first met Arie during her season), who WetPaint reports made as much as $250,000 during her stint on the show. On the lower end of the spectrum is Ashley Hebert, who UsWeekly reports made only $30,000 for starring on The Bachelorette Season 7. After Us Weekly published their report, Reality Steve gave a different estimate of Hebert's salary, saying, "Ashley made over $100k for this season of the Bachelorette, which is standard." To me, it doesn't really matter whether Us Weekly or Reality Steve is correct about Hebert's salary. Either way, Maynard was paid far more than Hebert for essentially doing the same job, and Hebert was the one who ended up being a Bachelor success story: She and winner J.P. Rosenbaum were married in 2012 and have been together ever since.
All that being said, it's not clear how much Becca will make for starring in The Bachelorette. If I had to settle on an exact amount, I'd have to agree with Reality Steve and say that the fan-favorite Minnesotan will make at least a 6 figure salary on The Bachelorette Season 14. Setting aside the obvious intrigue surrounding her dramatic breakup with Arie, Becca is down to earth, relatable, and funny, making her a complete catch for ABC. And now that millions of Americans are rooting for the all around amazing 27-year-old following the Arie-apocalypse, there's no doubt that her appearance on The Bachelorette will be an absolute ratings gold mine for the franchise. If ABC is smart (and they usually are when it comes to The Bachelor and its spinoffs), they'll pay Becca a salary that reflects her worth. I'm thinking something along the lines of $150,000 will do the trick.
Becca may be getting a nice pay day upfront, but, like her fellow Bachelor and Bachelorette stars, the real money comes from endorsements and sponsorships that she can take on after she leaves The Bachelorette. According to Us Weekly, Bachelor in Paradise Season 2 stars Jade and Tanner Tolbert made $1 million in 2016 advertising products like Hallmark and HelloFresh on Instagram and Twitter. At 679K Instagram followers, Becca is slightly behind Jade's 960K, but as soon as she appears on The Bachelorette (and gets verified — Instagram, can you get on this?), the Minnesota native is likely to surpass the Paradise star, putting Becca in a great position to use her Instagram for sponsorships, if she chooses. But if Becca wants to keep her Instagram true to herself and continue posting hilarious party pics and cute photos of her corgi nephew, there's another potential money-making route: she could get her own spinoff show, like Ben Higgins and Lauren Bushnell did with Ben and Lauren: Happily Ever After?.
The opportunities for Becca to make money through The Bachelorette really are endless. Plus, she can always dip into that fan-donated Venmo fund if she gets desperate.