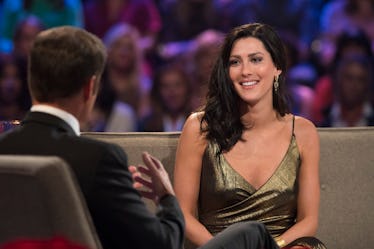 8 Things We Learned About 'Bachelorette' Becca From Her Instagram
ABC/Paul Hebert
I can't even imagine what this week has been like for Becca K. After watching Arie propose to her on The Bachelor finale, Becca had to relive their breakup and then witnessed her ex-fiancée propose to someone else on live TV. Arie be damned, Becca seems genuinely excited to be the next Bachelorette and get another shot at finding love. There are still over two months until fans see Becca in action, but fans looking for an inside peek should head over to Bachelorette Becca K.'s Instagram, where she regularly posts hilarious selfies and sweet pictures of her friends and family. While Bachelor Nation got to know the Minnesota native on Season 22 of The Bachelor, there's plenty more to learn about the brunette beauty, and her Instagram account is a great place to start.
Fans first saw Becca K.'s hilarious sense of humor in The Bachelor Season 22 premiere when she made Arie fake propose to her (in hindsight, that's not so great to think about), and her comedy definitely leaves a big mark on her Instagram account, as well. No matter what kind of picture, Becca is always ready with a funny caption or some self-depreciating humor, and I am totally here for it. If I wanted never ending glam shots, I'd look to one of Becca's cast mates, not the down to earth Bachelorette. As much as I learned about Becca from her pics, I'm still waiting for her to post something about the Minnesota bill banning Arie from the state. She hasn't said anything yet, but I know that the 27-year-old publicist would have a field day with that one. Here are eight other things I learned about Becca K. on my Instagram deep dive.
She has a corgi nephew and a cat, and she's obsessed with both of them.
While Becca posts tons of pics with the corgi Max, he isn't actually hers: he belongs to her sister Emily. But can you blame Becca for wanting to steal him for herself? Look at that good boy. Max has his own Instagram account, and the self-described "lady killer" isn't afraid to drag Arie. As for Becca's cat, the Bachelorette's Instagram suggests that she got her around early July 2017.
She's a big Game of Thrones fan.
It's great that the HBO drama doesn't return until 2019. Can you imagine if Becca had to choose between watching Game of Thrones and her season of The Bachelorette this summer?
Becca isn't afraid to play matchmaker.
Just because she's busy with her own love life doesn't mean she can't help out a friend with theirs.
And she's also not afraid to stand up for what she believes in.
After watching the outspoken Minnesota native speak her mind all season long, it's no surprise that her openness translates to Instagram, as well. The week of the 2016 election, Becca posted a throwback expressing her disappointment with the results. A few months later, Becca proudly attended the Women's March in Saint Paul, Minnesota to fight for reproductive rights.
Becca's sister Emily just got engaged in August.
In August, the Bachelorette shared that her sister Emily had gotten engaged with a hilarious caption. If Max ends up being in the wedding, I'm going to need to see pics.
She loves hanging out at the lake with friends.
Becca's Instagram is filled with fun pics of her friends hanging out (and drinking) at various lakes around Minnesota. I guess they don't call it the Land of 10,000 Lakes for nothing.
Becca has a great relationship with her mom.
During the hometown dates episode, fans met Becca's protective mom, who, as it turns out, was right not to fully trust Arie. Becca is obviously super close with her mom, especially because her dad died about 10 years ago, and she posts tons of pics of them traveling, seeing shows, and hanging out with family.
She loves a good themed event.
OK, Becca is literally all of us.
The Bachelorette Season 14 premieres Monday, May 28 at 8 p.m. on ABC.