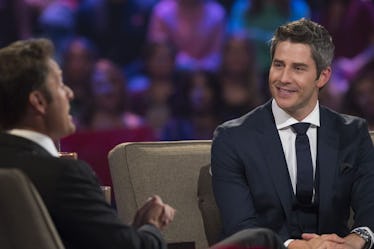 Here's What We Know About Arie Luyendyk Jr.'s 'Bachelor' Salary
ABC/Paul Hebert
After weeks of uncertainly, America finally knows what went down on this season of The Bachelor. In a two night finale extravaganza ("extravaganza" is really the only way to accurately describe what happened), fans learned that Arie originally proposed to Becca K., then broke up with her, then got back together with the runner up Lauren B., and then proposed to her. Are you winded? Because I'm winded. My questions about Season 22 of The Bachelor may be answered, but now that the season is over, one question remains: How much did Arie get paid as the Bachelor? I know that contestants can make serious bank off the ABC series, but I want to know just how much Arie is raking in now that it's all said and done.
According to Bustle, the amount that any given Bachelor or Bachelorette can make varies widely depending on who they are and whether they hire people to negotiate on their behalf. At one end of the spectrum is Emily Maynard, who WetPaint reports earned as much as $250,000 for introducing us to Arie in Season 8 of The Bachelorette. At the other end of the spectrum is Ashley Hebert, who, according to Us Weekly, made as little as $30,000 for her stint on The Bachelorette Season 7. Reality Steve contradicted Us Weekly's reporting, instead stating that Hebert "made over $100k for this season of Bachelorette, which is standard." Even if Reality Steve is correct and Hebert made six figures, that's still a long way off from Maynard's whopping $250,000 reported salary.
On the male end, Sean Lowe — the only Bachelor to actually marry the woman he proposed to on the show — made close to $90,000, according to HollywoodLife. $90,000 and a lifetime of love and happiness? I'll take that bet.
While it's not clear exactly how much Arie was paid for this season of The Bachelor, he has two things going for him that suggest a big pay day. The first is that he's a veteran of the franchise, and the second is that this season of the show is literally the only thing anyone is talking about. The Becca/Lauren drama went down around New Years, so both Arie and ABC have known for months that the finale would be a ratings circus, giving them plenty of time to negotiate salaries. Lindsey Denninger at Bustle estimates that Arie is making "a six-figure income for his time on The Bachelor," and with these two factors in mind, I have to agree. From a money standpoint (but not a real life stand point by any means), Lauren struck gold with this one.
And that's just upfront. The real money Arie will rake in comes from the endorsements, sponsorships, and appearance fees he'll get after the ratings circus has died down. These numbers aren't in the hundred thousands (not that that's anything to sneeze at), they're in the millions. After meeting on Bachelor in Paradise Season 2, Jade and Tanner Tolbert made $1 million in 2016 through social media posts advertising products like Hallmark and HelloFresh, Us Weekly reports. With just over 800,000 followers between them (and that number is sure to rise as The Bachelor PR train continues), Arie and Lauren are in a great position to make some serious cash, should they go the promotional route.
Another option for Arie and Lauren is to turn the massive fan interest surrounding their engagement into a televised wedding special. According to The Cut, five Bachelor Nation couples have gotten married in lucrative televised ABC specials. Like the star's individual salaries, the amount couples can earn for sharing their wedding day with millions of viewers varies, but in the past, couples have earned up to $1 million for "continuing their journey with the fans." In 2003, People reported that Trista Rehn and Ryan Sutter from The Bachelorette Season 1 were paid $1 million for televising their vows. More recently, Bachelor Nation's golden couple Sean Lowe and Catherine Giudici were paid "a six-figure sum" to walk down the aisle on ABC, E! News reports.
While fans may not know exactly how much Arie was paid as the Bachelor, one thing is clear: his financial success is just beginning.