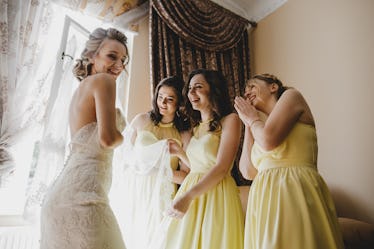 9 Things I Wish I Knew The First Time I Was A Bridesmaid
Being a bridesmaid is the ultimate honor. Your friend is asking you to stand by her side on one of the biggest day of her entire life. It's pretty much like she's The Bachelorette and is handing you a beautiful rose at the rose ceremony. You get all the feels, probably start tearing up a bit, and obviously say "yes" — but what can you really expect as a bridesmaid? You may have a general idea of what's expected of you, but there are some things to know about being a bridesmaid for the first time that no movie can teach you.
There are many tasks involved that aren't just rockin' a beautiful gown and planning an epic bachelorette party. You are now officially part of the bride tribe and have to be there to support your bestie (physically and emotionally) every step of the way. You're there for her right up until her and her SO leave the reception as a married couple.
It's an extremely fun experience, but you will never know what to truly expect until you are thrown into the process. Sometimes, planning and dealing with the other bridesmaids can get a tad stressful — and that's why these nine pointers will help you prep. You'll be slaying your first bridesmaid journey in no time, girlfriend.
Here are the nine things I wish I knew the first time I was a bridesmaid.
This article was originally published on