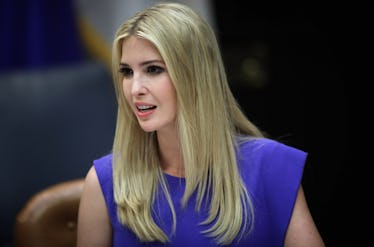 Ivanka Trump's Company Website Has Been Shut Down, So It's The End Of An Era
Win McNamee/Getty Images News/Getty Images
So you woke up this morning, ready to grab some chic items from Ivanka Trump's fashion brand website, only to find that there's just a big memo memo plastered across the screen with no option to navigate around the site. You might be asking: what's up with that? What happened to Ivanka Trump's website? What about that cute floral dress and cozy pair of suede sandals I had my eyes on? I hate to be the bearer of bad news, but let's just say, it's the end of an era.
If you missed it, Ivanka Trump's brand announced that it would be closing its doors in late July, and it looks like it's finally shuttered its website, too. Now, when you pull up the site, only a collage of the brand's clothing, shoes, bags, jewelry and other fashion items are on display, along with a "thank you" message.
"It has been an honor to build this incredible community of women and we are very proud of the content and product we delivered," the message reads. "Most importantly, we cultivated amazing partnerships and friendships during the life of the brand. Thank you for being a part of this journey with us."
The shutdown comes just under a month after it was announced that Trump would be closing down her eponymous fashion line. In a statement shared to The Wall Street Journal on July 24, Trump cited her budding political career and aspirations as the reason why she was stepping away from the fashion world. The statement read:
After 17 months in Washington, I do not know when or if I will ever return to the business, but I do know that my focus for the foreseeable future will be the work I am doing here in Washington, so making this decision now is the only fair outcome for my team and partners.
Although Trump decided to step away from the company to pursue her political dreams, she previously caught a lot of backlash from critics who felt it was a conflict of interest for her to profit from the brand while working as an adviser in the White House. Her brand was also granted Chinese trademarks in the middle of U.S. trade negotiations with China, after President Donald Trump promised to save ZTE — a major Chinese telecommunications company — back in May, which raised some eyebrows. At the time, the White House referred comments on the issue to the Ivanka Trump brand, which said at the time that there was nothing unethical about the trademarks, and that they were merely to prevent people from making money off Trump's name.
The fashion line was also marred by the #GrabYourWallet campaign in early 2017 after the president's inauguration, which was created in response to President Trump's comments about "grabbing" women by their genitals during a 2005 conversation with an Access Hollywood host that resurfaced back in 2016. According to Bustle, the mission of the cause was to hit the Trump family in their pockets. And as the campaign became more popular, various retailers either stopped selling Trump's brand or stopped advertising that they carried her merchandise. By February 2017, Nordstrom had stopped carrying her line for its "low performance," and Hudson's Bay followed suit back in July 2018 for the same reason.
She later tried online shopping as a method to boost sales, but it apparently just didn't stick — or Trump's political aspirations simply grew too loud and she decided to let it all go.
For now, some of the brand's clothing, shoes, and accessories are still being sold by the company's licensing partners, if you're willing to look. You've just gotta hurry and get it all while you can.