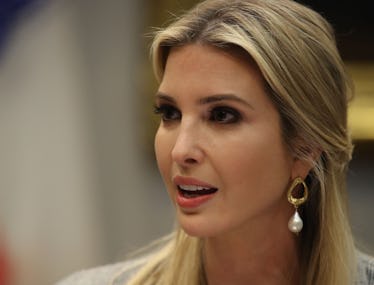 Ivanka Trump's Latest Business Move Could Be A Conflict Of Interest & Oh, Man
Mark Wilson/Getty Images News/Getty Images
Before Ivanka Trump marched into the White House behind her father, President Donald Trump, she was largely known as the mastermind behind her eponymous, chic fashion line, Ivanka Trump. Leaving her position behind appears to be quite the transition for Trump because, despite her new role as a senior White House adviser, she's flaunted several pieces from her brand at several official appearances — which have previously raised concerns about potential conflicts of interests. Now those concerns have grown even louder, because the Chinese government granted Trump's brand approval for seven new trademarks in May, which would allow her to capitalize off of one of the largest markets in the world. And given the timing of the move, it raises some questions about whether Ivanka Trump's Chinese trademarks are conflict of interest.
Trump was granted the trademarks for items like cosmetics, kitchenware, and baby products, according to The Los Angeles Times. But the approval comes in the midst of her father Donald's trade negotiations with China on a slew of issues.
Donald recently vowed to save ZTE — a major Chinese telecommunications company — from going bankrupt, even though American officials had previously banned its products from being sold due to the company's history of violating U.S. sanctions by doing business with countries like Iran and North Korea. According to The New York Times, the president's announcement to save the company came just six days before Trump's trademarks was approved. Are your eyebrows raised yet?
Even though Trump stepped down from her management position with her company shortly after her father took office, she continues to profit from her brand and involvement with the Trump Organization. Coupled with her family's business interests, there are mounting questions about whether or not Trump's business dealings and qualify as a conflict of interest. Noah Bookbinder, executive director of Citizens for Responsibility and Ethics in Washington, D.C., told The Los Angeles Times on May 29 that he, indeed, thinks the trademarks are a conflict of interest. He said:
Ivanka Trump's refusal to divest from her business is especially troubling as the Ivanka brand continues to expand its business in foreign countries. It raises significant questions about corruption, as it invites the possibility that she could be benefiting financially from her position and her father's presidency or that she could be influenced in her policy work by countries' treatment of her business.
A White House spokesperson referred Elite Daily's request for comment to the Ivanka Trump Organization.
However, Abigail Klem, president of the Ivanka Trump brand, declared to CNN that there's nothing improper about the trademarks, and that they simply prevent people from making money off Trump's name. She said,
The brand has filed, updated, and rigorously protected its international trademarks over the past several years in the normal course of business, especially in regions where trademark infringement is rampant. We have recently seen a surge in trademark filings by unrelated third parties trying to capitalize on the name and it is our responsibility to diligently protect our trademark.
Twitter users had different ideas than Klem's.
However, others didn't see anything wrong with the new trademarks. Kinda.
But it's not the first time that Trump's business moves have been called into question, which is why I'm keeping a close eye on this latest move. For example, in December 2017, The Wall Street Journal published an article that called Trump a "walking billboard" for her clothing line, claiming that 46 out of 68 photos she shared on social media between March and October 2017 showed the White House adviser wearing items from her brand. Critics have argued that Trump has purposely tried to advertise her brand through her political position, which is especially serious because government employees are prohibited from using their public office for personal gain, including by the endorsement of brands and products.
"Ivanka Trump is testing the boundaries on federal rules that bar government employees from using their position to promote brands that personally enrich them," Guian McKee, associate professor in presidential studies at the University of Virginia's Miller Center, told the WSJ.
In a statement emailed to the WSJ at the time, Trump denied attempting to profit off the brand, saying, "If what motivated me was to grow my businesses and make money, I would have stayed in New York and done just that."
IDK, you guys. I think we may need a bit more evidence before making a call on this one, so let's stay tuned and then we can regroup. Sound good?