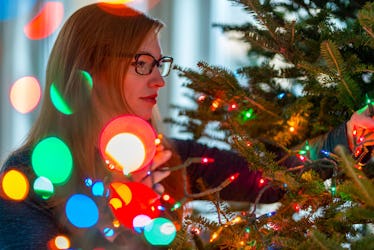 What Each Sign Loves Most About Christmas Is More Obvious Than What To Get Them
It's officially December, so are you rocking around the Christmas tree yet? I don't know about you, but the second I get a whiff of those Douglas-firs, I'm in holiday heaven. But my love for the most wonderful time of year doesn't stop there: I'm enchanted by those twinkling string lights, lusting after some spiked eggnog, and teary-eyed at the thought of the classic Christmas film It's a Wonderful Life. Aren't there specific things about the holiday season that just totally make your heart melt? What each zodiac sign loves most about Christmas 2018 will surely get you in the spirit.
Between the hustle and bustle of day-to-day life and all the demands of holiday shopping, it gets more and more difficult to tap into the Christmas reverie. After all, it's easy to love Christmas when you're a kid. You probably looked forward to it all year long and indulged in endless daydreams about setting aside milk and cookies for Santa and tearing open your presents the next morning. When you're an adult, Christmas is quite different. However, even though Christmas may be changing form, it doesn't have to lose any of the magic. Let's take a moment to forget all our problems and simply remember why we love Christmas so much.
Aries: Participating In All The Holiday Activities
Your whole entire being is pumping with energy around the holidays, and you can't wait to get out there and get in on the Christmas action. Between ice skating and strolling through Christmas light neighborhoods, you're game.
Taurus: All The Glorious Presents Under The Tree
You just can't help but love bright and shiny new things, and on Christmas, there's an abundance of that. The thought of all those gorgeously wrapped gifts containing precious presents is definitely your favorite thing.
Gemini: The Whimsical And Playful Magic Of Christmas
No matter what part of Christmas it may be, you're making the most out of it. You love how Christmas has so many opportunities to get back in touch with your inner child and play around. There's no need to be so serious.
Cancer: Spending Time With Your Loved Ones
Your favorite thing about Christmas is definitely the simple pleasure of having all your loved ones together in one place. To you, family is everything, and on Christmas, spending time with those who matter is all that matters.
Leo: The Spirit Of Giving Is In The Air
The whole point of Christmas is to be generous, and nothing gives you a better feeling in life than generosity. You love how everyone is so giving and caring, only inspiring you to do whatever you can for your loved ones.
Virgo: Getting To Decorate With Holiday Flair
Your eye for detail makes you the greatest Christmas decorator you know. You love wrapping yourself up in hanging ornaments on the tree, lights around the house, and mistletoe above our heads. For you, it's the little things.
Libra: Making Ugly Christmas Sweaters Fashionable
You are 100 percent down with Christmas fashion, even those dreaded ugly Christmas sweaters. You love everything about winter style and you have such a passion for sprucing your outfit up with little holiday details.
Scorpio: Snuggling Up With Someone By The Fire
You're really looking forward to all the Christmas fireworks. The intimacy between friends, family, and lovers makes your heart swoon. Loving and being loved in return is your favorite thing about life and the holidays capture it.
Sagittarius: Going On Several Christmas Adventures
There are just so many opportunities for some wild shenanigans when the holidays come around. Between so many events and Christmas adventures, you're totally here for it. You're flinging yourself right into a winter wonderland.
Capricorn: Feeling Totally Alive In Your Skin
The holidays are more important to you than anyone could possibly understand. After all, they take place during Capricorn season! You're literally a human Christmas tree when this time of year comes around and you ain't sorry.
Aquarius: Seeing Everyone At Christmas Parties
You're obsessed with bringing people together, and when Christmas comes around, all you're thinking about is how lit the parties will be. There's a social event coming up every weekend and they're all twinkling in holiday light.
Pisces: All The Christmas Music And Movies
All you're thinking about is how downright amazing the Christmas songs and movies truly are. Honestly, you probably wish you could indulge in it all year long, but you respect the sanctity of the most wonderful time of year.