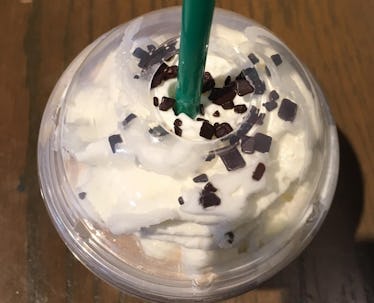 Starbucks' Black & White Frappuccino Tastes Like Every Chocolate Lover's Dream
Danielle Valente
Chocolate and whipped cream go together like Spongebob and Patrick, so of course the creamy goodness is non-negotiable when Starbucks debuts a new line of treats — especially one as delectable as its latest. For those wondering "What does Starbucks' Black and White Frappuccino taste like?" it's a brand-new chocolate paradise that's not to be missed. Yes, Mr. Barista, I'll take the whipped cream on my bev, and no I do not care that it's 9 o'clock in the morning.
It's Dec. 27 and 22 degrees, but I wasn't about to let a few daunting numbers stop me from indulging in the Black and White Frappuccino. Let me be honest here: This drink is worth braving the cold (though I kept my scarf and hat on the entire time while sipping the drink). It consists of dark mocha sauce, white chocolate mocha sauce, frappuccino roast coffee, milk, and ice. My whipped cream and chocolate shavings made for the perfect finishing touch, and I may or may not be fishing for said chocolate shavings with my straw as I type this (please don't judge, I'm hungry).
I have been assigned plenty of "I just tasted this Starbucks drink and here's what I think" articles while at Elite Daily, and I'll warn you, if you're inclined to pass on one of the many drinks I've sampled, let me just say: This is not that drink. The subtle yet sweet chocolatey concoction is the perfect winter treat (albeit for warmer winter days). It's a little overwhelming for breakfast, but it certainly makes one heck of a dessert. No need to have that sliver of cake now.
This Frappuccino is part of Starbucks' Black and White Mocha collection, which has arrived just in time to help make the colder months more tolerable. Bring on the evenings snuggled under the blankets with good books and Netflix shows. These treats are the perfect sidekick.
To make the year ahead all the more exciting, Starbucks decided to offer not one, but three different options. Consider this collection a gift before embarking on 2018. Thirsty customers will be able to choose between the Black and White Mocha, Black and White Hot Cocoa, and my beloved Black and White Frappuccino. If you're feeling adventurous, why not give all three a go? I definitely thought about it, but my slice of loaf cake and Frappuccino put me over the edge.
Since you're clearly a Black and White Frappuccino aficionado now after hanging out with me for a few paragraphs, let's get you up to speed with the other drinks in the new trio. The Black and White Mocha is a swirl of white chocolate and dark mocha. If there's a day in January or February that happens to be warmer than usual, you can order this baby iced. The Black and White Hot Cocoa is dark mocha sauce and white chocolate mocha sauce combined with steamed milk, so basically it's the hot cocoa you need for frigid temps. These combinations are certainly a lot to savor.
Now that you and your BFFs have decided which Black and White collection drink works best for you, it's time to concern yourself with winter entertainment since the treats are in order. These 2018 book releases pair perfectly with one of Starbucks' new baby boys and an evening by the fire. If TV is your jam, you'll definitely get inspired by Netflix and Hulu's 2017 year in review. By learning about some people's bizarre streaming patterns, you'll be inclined to check out a new show or two... and we all know how that routine goes. Grab a blanket and Black and White bev — you're going to be on the couch for a while.
Convinced yet? See you at Starbucks (and don't hog the whipped cream).
Check out the entire Gen Why series and other videos on Facebook and the Bustle app across Apple TV, Roku, and Amazon Fire TV.