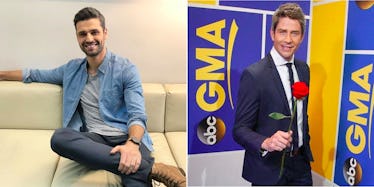 Peter Kraus Gets Real About How Arie's Doing As 'The Bachelor' – EXCLUSIVE
peterkrauswi/ariejr/Instagram
After a casual five years of being out of the Bachelor Nation spotlight, Arie Luyendyk Jr. was announced as the Season 22 Bachelor on Sept. 7, 2017. Rose petals flew, angry letters were penned to Chris Harrison, and the world of reality TV let out a collective "huh?". Coming off Rachel Lindsay's season of The Bachelorette, fans were convinced runner-up Peter Kraus would be named as the next Bachelor. When that hope came crashing down, fans got used to the idea of Arie, and gradually turned their rage into acceptance (it was your typical five-stage process of grief). And while fan opinions are important, the real question on Bachelor Nation's mind is what does Peter Kraus think of Arie as The Bachelor? Elite Daily sat with Peter and got the answer.
When asked if he's been watching this season of The Bachelor and what he thinks of it, Peter reveals,
I watched the first two episodes, that was it. Arie seems like a good guy, he definitely seems like he's invested in the process and wanting to get to know everybody as much as possible. He seems very serious about it, which I think people are taking as kind of dry but I think I'd probably be the same if I were in that position: I really want to get to know these people because I will hopefully, at least, develop a relationship if not get engaged at the end of these 10 weeks.
A valid point, although Arie's seriousness did result in the franchise's lowest ever ratings for a premiere episode.
Fans of the show certainly haven't held back when it comes to addressing Arie's "dryness" on camera.
Of course, there are still those campaigning for Peter to be our leading man, but Peter has a point. Arie's clearly looking for the real deal this season, and getting to know someone on camera in an honest, genuine way may not be the most riveting.
Luckily, those who aren't satisfied with Arie are getting another does of the Bachelor franchise during this season: The Bachelor Winter Games will air a four-episode mini series on Feb. 13, 15, 20, and 22 and will feature 14 contestants from previous Bachelor and Bachelorette seasons competing for dates.
Although fans were forced to go through another five-stage grief process after learning Peter won't be competing in the Bachelor Winter Games either, he did have something to say about the games and his future plans with the franchise.
Will there be a Summer Olympics version? Because I'd be a lot better at that than winter stuff… I'll go run track and throw spears and things... If they did a Summer Olympics, I'd definitely do that. I would love to do that. But things like Paradise, no, not really my thing. As far as becoming the Bachelor at some point, still not part of the life that I have right now, but if it were offered in the future, I'd think about it.
A Bachelor Summer Games? I think that's something everyone can get behind. @ABC, give the people what they want.
While the prospect of Peter agreeing to be the next Bachelor looks grim, these days he's doing just fine without a constant stream of roses.
Peter is currently promoting the app Hive Social, which connects people based on their interests. As he tells me, "The idea behind it is you have common interests with people here in town, but you don't know those people, so what we'd like to do is get you to go onto this app and put into your search profile the interests that you have and that will go on one common feed and you'll find all the people with those same interests."
Season 22 of The Bachelor airs on Monday nights at 8 p.m. EST on ABC.