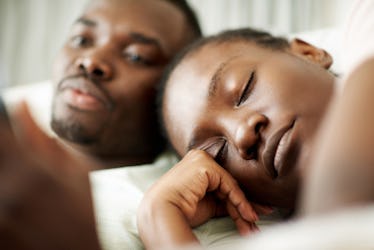 5 People You Might Dream About At Night & What It Means About Your Relationship With Them
In a dream I had a few nights ago, my friend Cyrus and I were trying to save an apartment building in Scotland from burning to the ground. A few nights later, I dreamed that I slept with my kindergarten teacher, Mrs. Forbes, and the whole time, I was really worried about what she thought about my body. Super weird, right? Upon waking, it really got me wondering, why am I dreaming about these particular people? Like, what does it mean when you dream about someone?
According to clinical psychologist Dr. John Mayer, dreaming about a particular person can mean a variety of things, and it can happen for a whole host of reasons.
He shares with Elite Daily why certain people might be appearing in your dream world:
The analogy of a brain being like a computer is accurate.
What happens is, when you fall into sleep, those thoughts and images and data that are spinning in your brain prior to sleep — those things are going to continue to spin throughout the night.
He adds that you don't really know how that "data" stored in your "computer" (aka the thoughts, memories, perceptions, and experiences you might have had throughout the day, or even in the days prior) might appear in a dream. And as for why these people enter your dreams in the first place, you might have had a thought, sensation, or experience that stimulated an association with someone — without even being aware of it.
"We have no control of how all that information you receive during the day might show up as you sleep," Dr. Mayer explains. "That's why it can sometimes make people uncomfortable."
Yeah, sleeping with your kindergarten teacher is definitely uncomfortable, my dude.
Here are a few other common people you might tend to dream about while you're sleeping, and what it might mean about your relationship with them.