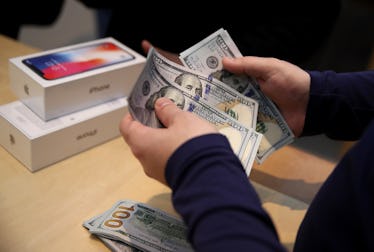 The Amount Of Money It Costs To Make An iPhone X Will Leave You Shook
Justin Sullivan/Getty Images News/Getty Images
The world collectively stopped what it was doing on Nov. 3 to welcome Apple's most anticipated device: the iPhone X. This new gadget features out-of-this-world capabilities and promises to catapult the smartphone into a new era. However, once you find out what it costs to make an iPhone X, chances are you'll be in for quite a surprise.
The anniversary iPhone completely stole the show from the iPhone 8. During Apple's September keynote address, the company's top bananas introduced the new products, and though many believed the iPhone 8 and X would be one in the same, Tim Cook and co. assured the audience that the X was in fact a different device. Minds everywhere were blown, and naturally, everyone needed to know what the iPhone X had in store for users.
According to a press release from the Apple newsroom, the iPhone X features an "Super Retina display, A11 Bionic chip with neural engine for powerful machine learning, augmented reality and immersive 3D gaming experiences, wireless charging and Face ID, [and] an innovative and secure new way to unlock, authenticate and pay." It's pretty spiffy and undoubtedly high-tech, so people were not surprised that the X came with a hefty price tag starting at $999.
Though customers are spending close to a grand on the new iPhone, reports circulated stating that it only takes $357.50 to make the device.
You can pick your mouth up off the floor, though. These numbers only factor in components, not research or development costs. With this in mind, it's definitely a little less shocking.
In case you haven't heard the iPhone X is a pretty big deal, largely due to its Face ID system. This is a fancy schmancy way to access your device. Instead of plugging in a six-digit code, now all you need to do is smile and Apple does the rest (though this might be a bit trickier if you have an identical twin). It's pretty fantastic.
But let's be serious: the real reason everyone is losing their cool over Face ID is because it allows you to bring emojis to life. You heard that correctly: The bunny, pup, panda, and even the poop can mimic your expressions thanks to Face ID. Honestly: How did your text messages once survive without the screaming unicorn?
So how do you bring these fellas to life?
Go into your messages and decide who is in need of a smiling pup or a laughing cat. After you've chosen a text message strand to send to that special someone, select "Message Apps," which is a small blue icon that looks like an "A." You can find it right next to your camera, which will be to the left of you iMessage box. Next, select the Animoji icon. That's when the magic happens: Pick your favorite animal, record your expressions for 10 seconds, and send that bad boy on his way.
Although the Animojis are the main draw of the iPhone X (how could they not be?) there are some loopholes you need to know.
Users can only send Animojis via the iPhone X, however, these funky little characters are able to make their way between any iOS and Mac devices on iMessages. If you have an iPhone X, you can also send Animojis to your friends who have phones that aren't running on iOS or Mac via MMS. You can even send your Animoji as a .MOV file if you save your Animoji to your camera roll.If that's sounding a little technical, you can simply send your Animoji as a sticker. To do so, you must follow the same steps you took when accessing the Animojis in the Message apps.
Even if these reports about the gadget's figures through you for a loop, don't forget to take other aspects into effect, like research and development. And truthfully, when it comes to Animojis, money knows no bounds (sort of). Happy texting, techies.
Check out the entire Gen Why series and other videos on Facebook and the Bustle app across Apple TV, Roku, and Amazon Fire TV.