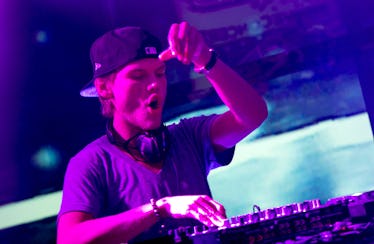 The Story Behind Avicii's Stage Name Is So Classically Millennial
Avicii, the Swedish musician, DJ, remixer, and record producer, was found dead at age 28 in Muscat, Oman on Friday, April 20. After news of his death broke, some people are wondering about the origin story behind his stage name. What does Avicii mean? The story is way more nuanced than you might expect.
Originally born as Tim Bergling, he opted to perform with a stage name. As he explained in the 2013 VEVO interview "Becoming: Avicii," a friend had apparently told him that the word "avici" is the "lowest level of Buddhist hell." Around the same time, he needed to choose a handle for his MySpace page. Inspired, he wanted to go with "avici," but found the name was already taken. As an alternative, he added the extra letter at the end, and has been known as Avicii ever since. Luckily, he told VEVO he's "really gotten accustomed to it."
The name Avici, it means 'lowest level of Buddhist hell.' I think a friend of mine told me about it first for something completely different, and I was kind of choosing my MySpace page at the time. Everything else was taken, my real name was taken. I really like it now, though. I've really gotten accustomed to it.
Honestly, few things are more classically millennial than going with a made-up spelling variant of your first-choice name because the original was already taken on MySpace. (For the record, Avicii, who was born on Sept. 28, 1989, was definitely a millennial.)
"Avici" is a Sanskrit and Pali word that means "without waves." In those languages, the word for "hell" is "Naraka."
The superstar DJ first rose to fame with the 2011 smash hit "Le7els." Before long, he won two MTV Music Awards, one Billboard Music Award, and earned two Grammy nominations. Most recently, he was nominated for another Billboard Music Award for top dance/electronic album for his EP "Avicii (01)" on Tuesday, April 17.
Behind the scenes, away from the DJ booth, Avicii struggled with his health. After years of suffering from acute pancreatitis, he had both his gallbladder and his appendix removed in 2014. And in early 2016, he announced on his website that he would retire from touring. He wrote:
WE ALL REACH A POINT IN OUR LIVES AND CAREERS WHERE WE UNDERSTAND WHAT MATTERS THE MOST TO US.
For me it's creating music. That is what I live for, what I feel I was born to do.
Last year I quit performing live, and many of you thought that was it. But the end of live never meant the end of Avicii or my music. Instead, I went back to the place where it all made sense – the studio.
The next stage will be all about my love of making music to you guys. It is the beginning of something new.
Hope you´ll enjoy it as much as I do.
On April 20, Avicii's publicist Diana Baron released a statement that said, "The family is devastated and we ask everyone to please respect their need for privacy in this difficult time."
He was beloved by the music community, and both musicians and fans alike have shared an outpouring of tributes to the DJ and support for his family.
Calvin Harris called him a "beautiful soul" with "so much more to do."
Liam Payne tweeted that he was "truly devastated" by the news.
DJ Pauly D appeared to be stunned.
Charlie Puth said he "opened my eyes as to what my productions could one day sound like."
deadmau5 offered his condolences to Avicii's friends, fans, and family.
Avicii will be sorely missed by the music community.