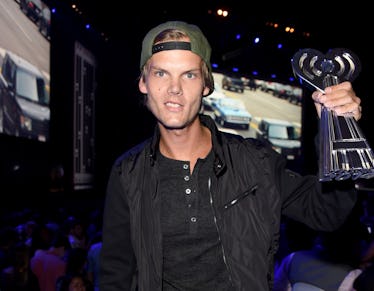 There's One Thing You May Not Have Known About Avicii Before His Death
Jason Merritt/Getty Images Entertainment/Getty Images
R.I.P., Avicii. On Friday, April 20, news broke that the hit DJ was found dead at the young age of 28, leaving fans grieving. The Swedish musician has been performing for almost a decade, so we know plenty about him and his amazing music. But there's one thing fans may not have actually known before his death: his real name. What's Avicii's real name? Before he was Avicii, the musician was named Tim Bergling, and the story behind his name change is all kinds of fascinating.
It may surprise you, but Avicii chose his now infamous DJ name somewhat randomly. When he first started DJing, he initially wanted to use his given name, but it was taken on MySpace. He explained in a 2013 VEVO video interview that a friend told him that "Avicii means the lowest level of Buddhist hell" in passing, and the name stuck in his head. "I was kind of choosing my MySpace page at the time. Everything else was taken, my real name was taken," he said. He remembered the fun fact about "Avicii," and he chose to make a page with the name. "I really like it now. I've really gotten accustomed to it," he said about the name change. Apparently, changing your name really is that simple.
We know Avicii as the mastermind of "Levels" and "Wake Me Up," but years before that, he was just a no-name musician looking to other DJs for inspiration:
It was all about house blogs. I was always on those websites just to get the latest music to get inspired, really. I, in turn, thought, why not try to send my songs to these house blogs and see if they can promote it or if they can release it.
This turned out to be the big break Avicii needed: a manager, Ash Pournouri, heard his banging tracks and asked for a meeting, and the rest is EDM history.
As soon as the news broke that Avicii had passed, his fellow musicians reached out with kind words for the star. Charlie Puth took to Twitter to express his sadness, writing that Avicii inspired him and that he was "the very best."
Calvin Harris, another DJ who came up around the same time as Avicii also paid tribute to the talented star. He even used Avicii's real name, Tim, in the heartfelt message. "Devastating news about Avicii, a beautiful soul, passionate and extremely talented with so much more to do," he tweeted. "My heart goes out to his family. God bless you Tim x."
Avicii's many followers expressed their grief on social media, as well.
The news of Avicii's passing first came via a statement from his publicist. "It is with profound sorrow that we announce the loss of Tim Bergling, also known as Avicii," it said. "He was found dead in Muscat, Oman this Friday afternoon local time, April 20th. The family is devastated and we ask everyone to please respect their need for privacy in this difficult time. No further statements will be given."
Avicii's death is a huge loss to fans, especially those who were hoping that he would return to the stage soon. In 2016, the musician retired from touring due to health issues. He had suffered from issues including acute pancreatitis for years, and in 2014 he had to get both his gallbladder and appendix removed. Fans were devastated by Avicii's retirement, but they kept up with him on social media and continued to cheer him on, even though he wasn't touring.
Avicii may be gone, but his music will live on forever. May the great musician rest in peace.