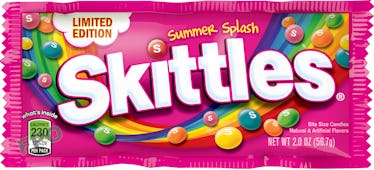 Skittles Released New Flavors In Their "Summer Splash" Bag & They Sound So Good
Wrigley
Anytime I return from a summer vacation, I feel like a new person. No matter where I go, I come back totally relaxed and feeling better about myself. My skin is sun-kissed, and my hair feels soft, long, and so freaking luscious. Likewise, Skittles just returned from their latest and greatest summer getaway, and it looks like they underwent a pretty unbelievable glow-up. If you're wondering what Summer Splash Skittles taste like, get ready to witness the transformation of a lifetime. It's a wild experience, and they taste delicious.
Just like you, Skittles just returned from a glorious summer vacation. I honestly have no clue if they went to Dubai, the Andes, Maryland, or even their own backyard, but what I do know is that they're officially back and better than ever. According to a press release, Summer Splash Skittles are super refreshing — and based on their light, vibrant colors, I'm guessing they taste like a day trip to the beach or an early morning swim in the lake. This is definitely the only thing I'll be snacking on this summer, so get ready to witness the most summery sugar rush you ever did see. My body is ready, people.
According to a press release, you can now find packs of Summer Splash Skittles at any Dollar General store. Each pack features a tantalizing lineup of new (and truly incredible) tropical summer flavors, which include Strawberry, Blue Raspberry, Orange, Kiwi Banana, and even Watermelon (oh my gosh, yes please). Each new Summer Splash flavor sounds beyond delicious, perfect for the warm weather, and, quite frankly, like everything I could ever want after a long, hot day in the sun. I am OBSESSED with these, and I am absolutely not sharing with any of you. #SorryNotSorry.
But alas, like the summer sun, Summer Splash Skittles will only be around for a very limited time, according to the press release. I know this is unfortunate and heartbreaking news, but like we all used to say at summer camp, "don't cry because it's over; smile because it happened." And those are the words I continue to live by, especially when it comes to deliciously sweet Skittles.
There's a good chance you remember one of Skittles' last limited-edition flavors, which was called Skittles Sweet Heat. They were released earlier this year, circa March 2018, and they're the super spicy kick I continuously crave throughout the day. Luckily, they're still available at stores like Walmart, because I seriously don't know what I would do without these. Sweet Heat Skittles for days, y'all.
However, if you're looking to cool down from the summer heat, Taco Bell's Skittles Strawberry Freeze is incredibly refreshing, it's relatively similar to a slushy, and it bursts with bold flavors of strawberries and Skittles. Whether you're looking to beat the heat, or if you're simply looking for a midday pick-me-up, the Skittles Strawberry Freeze is available at participating Taco Bell locations nationwide. This definitely won't be something you'll want to miss this summer season, and I'm already preparing myself for numerous brain freezes.
Returning from vacation seriously is a glorious feeling, and I wouldn't trade it for the world. And clearly, neither would Skittles. I wish I could say that Skittles Summer Splash flavors are here to stay — but they'll only be around as long as a gorgeous tan or luscious beach waves, so make sure to get them before they're gone. I know I'll miss these when the summer sun sets, but for now, let's live like there's no tomorrow. Summer Splash Skittles are forever in my heart.