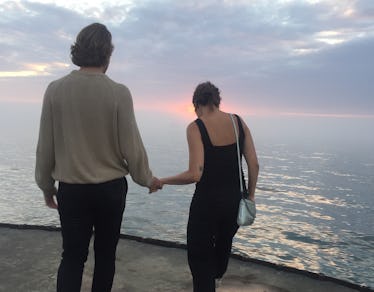 I Dug Deep To Get My Boyfriend The Perfect Birthday Gift & It Was Harder Than I Thought
Brittany Leitner
I don't know how men are supposed to look when they dress up. Is it a one-and-done type of deal? Or does a custom suit really make all the difference? Should the suit be black, or can they go a little funky with a houndstooth or plaid? These are all the questions I wasn't prepared for when my boyfriend brought me suit shopping with him a few months ago. I began to realize I knew absolutely nothing about men, so when it came time to figure out what to get my boyfriend for his birthday months later, you can bet I was totally lost.
I've also never really had a proper boyfriend. I dated handfuls of people in college and in the years after, but no one really stuck. You know, like "introduce them to your family and plan long-term vacations with them" stuck. You know what I was really good at? Planning my girlfriends' birthdays. I'd grab their favorite bottle and we'd spend the night on the town in our best dresses and heels. I'd send donuts or flowers to their office. My friends, I could handle. My boyfriend, however, needed something a bit more special. This was especially after seeing what he did for me on my birthday. I'm a poet, and he got a collection of my poems specially leather-bound for me. It was absolutely the sweetest thing anyone has ever done for me, and it was a gift that spoke to both my passion and his ability to respect them and cheer me on.
So, taking the lead from him, I thought a good place to start would be to think about what he was passionate about. I also feel like birthdays are a good time to do something you wouldn't ordinarily do. Since his birthday was at the beginning of August (a Leo!), I thought about what we had spent most of our summer doing and where we made some of our greatest memories. The answer to that was easy: traveling. Since June, we visited Vermont, Nashville, Kentucky, Michigan, Seattle, Vancouver, and Salt Spring Island. We had amassed tons of memories, incredible once in a lifetime experiences, and — best of all — tons of photos.
It was safe to say a travel bucket list was definitely in store for our future, but I didn't just want to get him an airline gift card or something. Since I knew traveling was a big part of our relationship, I wanted to find a way to cement our memories so we could easily look back on everywhere we've been. Enter: my scrapbooking skills I picked up in middle and high school. At the start of our relationship, a colleague told me to make sure I was constantly journaling. She said later on, I'd want to remember how our relationship first started and how my feelings grew along the way. I had definitely been slacking on the journaling, but I knew she was right and that — especially for our trips — I'd want to remember every last detail. I decided to make him sort of a scrapbook-journal hybrid of all of our memories.
I went on Amazon and purchased three things: a blank scrapbook I could write on, a bundle of stickers, and an acid-free glue stick. Then I sent about 100 photos from all of our trips over to Walgreens and scheduled them to be printed. With brightly colored pens, I added specific memories about how I felt during the trip, and made sure to highlight super sweet or super hilarious moments we shared. I also kept ticket stubs and brochures from our travels and glued them in with the photos. I was so happy to not only give him a tangible account of all of our trips, but also to immortalize exactly how I felt and what we shared during the time, so we'd never forget.
But still, even though I was pretty proud of myself for completing this project, I wanted to make another memory with him on his special day, not just look back on old ones. This is where I started to think about what he was passionate about. My boyfriend runs a few businesses, and since he's self-employed, he has to make his own schedule from scratch. This means, more often than not, he's completely ignoring his need for personal time and scrapping any chance he might have to just sit back, relax, and do nothing. I also remembered him saying something in the past that I was surprised by: he and his friends loved going to bath houses and spas. I'm not really a spa girl myself, so I was surprised to hear that so many NYC men liked to relax at them. Remember, I know nothing about men, so him saying this particularly stuck with me. I went researching for the best spa in the city — one you could really make a whole day out of. After reading tons of reviews (and checking out the Instagram views, of course), I found a clear winner: Sojo Spa in Edgewater, New Jersey.
Sojo Spa Club stuck out to me because it really did seem to be all about relaxing. Sojo features seven floors of total heaven, including over seven pools and baths, eight saunas and therapy rooms, a massive water slide and an infinity pool that boasts serious views of Manhattan. If you go on a weekday, $60 gets you unlimited access to all the pools, baths, and saunas, and with a built-in restaurant where you can break for lunch, I knew we'd be able to spend the entire day there and truly get great use out of all Sojo had to offer. Sojo also has a complimentary shuttle service that will take you round trip from Manhattan to the spa's location in Jersey.
Also, I now totally get the hype with spas. You literally get to walk around in a robe and barefoot all day — even when you're grabbing lunch. The Sojo environment was so relaxing, clean, and tranquil, we had a truly incredible day just taking dips into the pools and baths, and sprawling out on massive relaxation chairs overlooking the skyline.
If you're totally stuck on what to get your partner for their birthday, you can't go wrong with a gift that reflects on two amazing parts of your relationship: memories of where you've been and where you're going. It was incredible to wrap up our summer travel in one gift, and also spend the day with him making a new memory. We haven't been able to stop talking about that spa day, and can't wait until we have an opportunity to go again. I can't wait to look back on that scrapbook in the years to come, and keep adding to it after each adventure we cross off our list together.
Check out the entire Gen Why series and other videos on Facebook and the Bustle app across Apple TV, Roku, and Amazon Fire TV.
Check out the "Best of Elite Daily" stream in the Bustle App for more stories just like this!