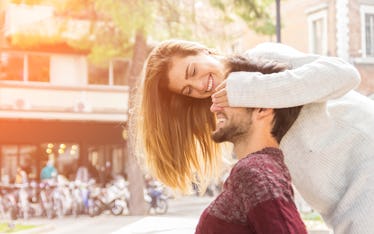 8 Creative Gift Ideas For Your Boyfriend When You're A Newly Exclusive Couple
Kar Tr/Fotolia
There's no doubt that new relationships are tons of fun. When you're still in that "getting to know you" phase, every date and conversation feels like its own adventure. When it comes to present giving, though, the newness of the relationship might make it a bit challenging to find the right gift ideas for your boyfriend.
Depending on the occasion, you can always go with a themed gift. The winter holidays are in no short supply of trinkets and goodies that anyone would appreciate. If you're shopping for a birthday or something a little more personal, you've definitely got your work cut out for you.
When in doubt, ask! Bae won't mind if you admit you don't know how to read his mind, and he'll be glad you want to get him something he'll actually appreciate. Have him give you a few ideas so you can keep the element of surprise on your side when the time comes.
The only downside to asking is that he might tell you that he wants absolutely nothing. Let him know that this answer is not acceptable, because you're giving him a gift whether he wants it or not. If you're still unsure of the perfect present, here are some BF-friendly gift ideas to spark some inspiration.
1. A Jar Of Nothing
A Jar Of Nothing, $16, Colorful Images
If your man is a stubborn one who says he doesn't want anything, get him exactly that. Not only will he find it absolutely hilarious, he'll be getting exactly what he wanted. It's a win-win.
2. A Personalized Photo Cube
Carved In Love Personalized Photo Cube, $30, Personalization Mall
Obviously you've taken some super cute pics together, so why not let him show them off? You can customize this photo cube to say whatever you like, so you can write him your very own message. The sleek wood makes this a stylish piece for any room in the house.
3. A Wooden Watch
Wooden Men's Watch, $60, Etsy
Whatever your dude's style is, a watch this stylish will definitely fit into his wardrobe. It's versatile and classic with a sleek twist, and you can personalize the back. The leather strap adds an extra feeling of comfort, so your guy won't even know he's wearing it.
4. Stylish Sneakers
Vans Atwood Sneaker Men's, $40 -- $50, DSW
Dudes like shoes. All you really need to know is his style and size, and you're good to go. Check out the clearance section at your fave department stores if you want to save a few dollars on your shopping trip.
5. His Team's Baseball Cap Or Snapback
San Jose Sharks New Era NHL All Day 9FIFTY Snapback Cap, $32, Lids
If your guy is a wearer of hats, you really can't go wrong with adding to his collection. It's a gift you know he'll use and appreciate. Just know which teams he cheers for to aid in your shopping endeavor.
6. The Ultimate Bar Set
Home Bar Tools Set, $43, Amazon
This 11-piece set has everything your man needs for a bartending experience from the comfort of his own kitchen. All pieces are stainless steel and ready to use. Even if it's his big day, he'll be eager to whip up some drinks for the two of you once he sees this set.
7. Super Cozy Sweatpants
Sweatpants, $25, H&M
Help your new dude get nice and cozy with some insanely comfortable sweatpants. These have a classic look that'll never go out of style — not that style really matters when you're chilling at home. Make sure to buy the comfiest pair you can find, just in case you have to steal them at some point.
8. "In Case Of Emergency" Mini Bar
In Case Of Emergency Break Glass Mini Bar, $45, Etsy
For a guy with a sense of humor, the possibilities are pretty much endless. Still, you really can't go wrong with a boozy present, and this piece will make a great addition to any space. Just try not to have an emergency.