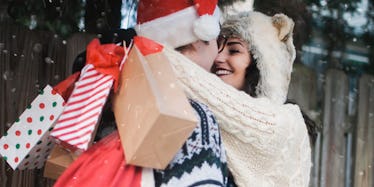 What To Get Your Guy For The Holidays If You Just Started Dating
Chelsea Victoria
Congratulations! You've found yourself a guy who likes you for you.
Though years of failed dinner dates and incessant swiping was beginning to turn you into a bit of a skeptic, his undeniable charm and the fact that he's a genuinely decent human being are proving you otherwise. I envy you (at least, a little bit).
But while I'm sure you're basking in the glory of having someone to spoon during these cold winter months, there is one thing I'm sort of thankful I don't have to deal with that you, my friend, will: Buying him a present.
The art of gift giving ain't easy. You don't want to come off too anxious, doling out over-the-top, expensive gifts that, to be honest, you aren't even sure he wants.
On the other hand, you don't want too come off skimpy, handing him a VISA gift card after he's just gifted you with the shiniest jewelry you've ever seen.
In my eyes, the item itself shouldn't be factored in when measuring how much you truly care about a person. Literally, someone I'm dating could give me dirty shoelaces, and I'd wrap them around my bed post like a jolly Christmas wreath.
You could give me dirty shoelaces, and I'd wrap them around my bed post like a jolly Christmas wreath.
So basically, it's the thought that counts. But I'm single AF (and loving it, mind you), so this doesn't apply to me. Let's talk about YOU.
As I've already begun my well-deserved single man shopping spree this season, I've spotted some things I'd deem holiday gift appropriate for that new guy in your life.
Because we all know how hard it is to find the perfect gift for bae, here a few gift ideas just about any guy would enjoy:
1. JackThreads Waffle Beanie
Let's face it: Beanies have an undeniable way of making guys more attractive. I'm not sure if it's the overtly hipster feel, or just pure clothing magic, but you can never go wrong with this item when it comes to feeling warm but looking ~hot~.
Make it complete with a matching scarf or pair of gloves, and you're good to go.
Buy: Waffle Beanie, $18, Jack Threads
2. Adam & Eve's Good Head Kit
If you're aiming to please, a gift of this caliber is a surefire way to help get the job done. It's literally a blowjob kit.
Complete with everything from lip balm to sex mints to cock rings, this pleasure kit will have him questioning every blowjob he's received in the past anddddddd will make you the best girlfriend or boyfriend ever.
Buy: Good Head Kit, $20, Adam & Eve
3. A Netflix Subscription
You still aren't over how much of your third date you spent explaining the entire premise of "Stranger Things."
Since he's been living under a rock, give him access to the popular streaming service by getting him a Netflix gift card. (Yes, they exist.) That's, like, three months of free Netflix right there. Look how giving you are, you magical Christmas elf, you.
Hopefully, this'll broaden his pop culture horizons and up the number of relaxing Friday nights of "Netflix and chill" you have this winter.
Buy: Netflix Gift Card, your choice, Amazon
4. DropCatch Magnetic Bottle Opener
His apartment could use some sprucing up, but a maid service isn't exactly the most romantic of gifts.
Instead, opt for something that'll at least keep his drinking habits in order, all while maintaining that "college bro" apartment vibe.
While you're at it, go ahead and get it engraved for a nice, personal touch.
Buy: Porter Bottle Opener, $30, DropCatch
5. Herschel Packable Duffle
For the guy who's always on the go, there's nothing better than a durable bag used for any type of travel situation.
A trendy, lightweight duffle is suitable for any type of getaway... especially the ones you hope he takes you on.
Let's not get ahead of ourselves, though. This is your first Christmas together, after all.
Buy: Herschel Supply Co. Packable Duffle, $28, Amazon
6. Cocktail Shaker Set
When we're young, it's hard to say no to just how cheap a bottle of Burnetts vodka is. But as you get older, your taste for liquor tends to get a lot more... expensive.
Not only to do yearn for better quality alcohol, but also those basic, watered down drinks only leave you with shattered dreams and terrible hangovers.
This kit, complete with a strainer, jigger, muddler and tongs, can change all of that. Drink responsibly, but most importantly, drink ~fancily~.
Buy: Cocktail Shaker Set, $50, Urban Outfitters
7. J.Crew Black Onyx Cuff Links
If he suits up for his 9-to-5 finance job every day, a classy pair of cuff links will help maintain his status as best-looking man in the office.
Plus, chances are he'll be thinking of you every morning as the credit for keeping his shirt sleeves together.
Buy: Black Onyx Cuff Links, $60, Urban Outfitters
8. Tickets to an NFL Game
It's football season, and while his fantasy league isn't as kinky as it sounds, he sure does spend a lot of his time obsessing over his team's latest stats.
You can use this gift one of two ways: As an opportunity for him to have quality guy time with his friends, or as a chance to bundle up together and brave the cold for a quality sports outing. Either way, it's a win-win.
Buy: New York Giants Tickets, ~$100-200, StubHub
What're you waiting for? Get shopping!