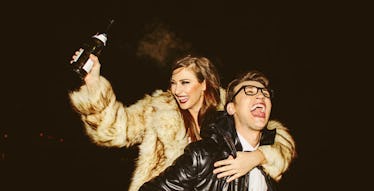 10 Things Not To Gift Your Boyfriend This Holiday Season
Stocksy
As we bask in the holiday season and all it has to offer, the stress of who to gift what to is never far away. We all know the feeling of high anticipation on Christmas morning.
We can't wait to tear open gifts, only to find an ugly sweater from grandma or the ever-so-dreaded mitten set you will likely never wear.
The one person we expect to come through for us with the perfect gift is our significant other. After all, he or she is supposed to know us best, right?
For women, we are generally easy, seeing as how we gawk at every cute pair of shoes we see in a mall window upon walking by and talk about it the whole way home to our boyfriends.
Puppies, diamonds and anything cute will suffice as the perfect gift under the tree for us, but of course, men just aren't that easy.
There are, however, things he absolutely does not want to see after minutes of poking at a well-wrapped gift box. Here are 15 things you should probably stay away from:
Self-Improvement Items
Ladies, we are all about the betterment of the mind, body and soul, but the first step in great gift giving is knowing your receiver. Guys don't care about bettering themselves in the same ways women do.
A self-help book or anything even remotely related to becoming "a better man" will probably get your girlfriend-Santa card revoked.
Promise Ring
A promise ring for Christmas says nothing more than, "I was waiting for the opportunity to be pushy and I got that chance this holiday season."
Don't use this joyous holiday to trick your significant other into a commitment of any kind, or else, you'll be ringing in the new year boyfriendless, wishing you had kept the receipt.
Socks
As a fashionista, you may want your man to step back into the office wearing the most stylish socks under his well-tailored slacks, but do both of you a favor and just don't buy him undergarments.
It's cliché and he can buy his own socks; let's try a little originally on for size.
Tickets To A Show That Only You Want To See
If you're going to spend $200 on tickets to a live show that is only going to act as a sweet lullaby to him, you're wasting not only time, but money.
Your guy doesn't want to see the opera, and he doesn't want to sing along with the latest musical.
You are better off getting him tickets to a basketball game. Even if you want to poke your eyes out with every rebound and layup, he'll enjoy it.
After all, it is HIS gift.
Matching Outfits
Most guys, at least the dapper ones, wouldn't mind articles of clothing under the tree. As long as it stylish, one of a kind, his style and you don't own anything that looks like it, you should be in the clear.
Romantic Trinkets
Girls, your guy wants manly stuff, and romantic trinkets do not qualify.
Sure, it's the thought that counts, but perhaps you should think about buying him something more useful. No picture frames or anything else that screams, "I LOVE YOU!"
Clothes You Know are Not His Style
Most girls would love to give their significant other a bit of a style makeover. However, Christmas is not the most appropriate time to do it.
He wants to open a gift he will love, not a gift that has your style written all over it. You are his girlfriend, not his stylist.
A Gym Membership
This is a classic "what are you trying to tell me?" gift. How would you like it if your boyfriend got you a gym membership? Seems a bit passive aggressive for "babe, you're fat."
Home Décor
This one is fairly simple. Guys may love their man caves, but they don't decorate.
He couldn't care less whether his drapes match his area rug, but then again, he probably doesn't even have an area rug.
If he happens to be one of the rare few who cares about home décor, there is a good chance you guys don't have the same taste, anyway.
A Knockoff Anything
This has to be number one. Gifts can be expensive, but you also knew this joyous occasion was coming 364 days ago. Save up to buy him exactly what he wants.
If you can't afford it, opt for the next thing on his list. Don't swap out the real thing for a cheap look-alike.
As 22-year-old bachelor Mike Bonello says, "If my girlfriend were to get me a gift I didn't like, I would lie." So, if you were to go against the grain and purchase one of the items listed, he may secretly hate it without telling you. It's best to be safe rather than sorry.
Think outside the box … or in our case, the list.