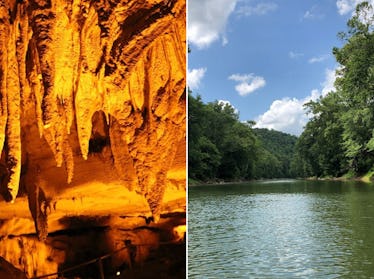 This National Parks Trip Has The Outdoor Adventure You Want With No Camping Required
Ryan Hallett
I'm the type of New Yorker who will begrudgingly take a seat on a park bench, only to completely run away from it the second I see a squirrel scurrying too close. I'm not usually planning my weekends around camping adventures or slating in National Parks trips in between meetings at work. No, I love the concrete jungle; I don't need trees and lush greenery to feel relaxed. Give me a blanket, a cement rooftop, the city skyline, and I'm in outdoor heaven. When I do want to take a break from NYC life, it's to go across the pond to London (I know, I know, it's basically just a European New York), or relaxing in the picture-perfect temperatures in California. Like I said, I'm not really an outdoors kind of girl.
Nature can be intimidating, but I figured I could handle a National Parks trip that has outdoor adventure if I could at least retreat at night to the safety of a hotel room at night. After I was invited by the National Park Foundation to visit parks in Kentucky and Tennessee, I took it as an opportunity to try out something I had never done before: take a trip that's mostly based around nature and outdoor activities.
If you're like me and usually think of spending time in nature as an afterthought, a parks trip is the perfect way to get your nature fill. This type of trip stems from a central location in a big city and offers the opportunity to have the best of both worlds without the feeling of being totally stranded in the middle of nowhere.
Stones River National Battlefield, Tennessee
This was the first stop on the leg of my parks trip. After flying into Nashville, Tennessee, this stop was just a 45-minute drive from the Music City, which meant I got to see and do more than just visit the honkey-tonk bars and hear live music. Stones River is the Civil War battlefield where the most casualties were lost in the war, with about 23,000 deaths. It's the site of an important turning point in the Civil War in that it allowed the North to gain control of Tennessee, which was crucial in the union victory.
It was incredible to spend a day exploring the modern city of Nashville, and then go back in time to learn about a crucial moment in our nation's history by taking a short drive away. I got to have my city life and historical outdoor adventure in the same day.
Mammoth Cave National Park, Kentucky
I never thought I'd ever say Kentucky was one of the most magical places I've ever seen, but when you stay in the middle of Mammoth Cave National Park, you really do become one with nature. At The Lodge at Mammoth Cave, you are literally staying in the middle of the park, surrounded by all nature has to offer. Here, deer lead the land, and if you head outside of your cabin after sunset, you can find plenty coming up onto the camp grounds to say hello.
You can also take a break from the sweltering heat and visit the park's namesake: the incredible caves. At a cool 55 degrees all year long, these caves are not only a natural wonder, they're absolutely incredible to witness firsthand. Have your tour guide (which you can easily book at the visitor's center upon arrival or in advance) tell you about Stephen Bishop, who was one of the most internationally requested tour guides and a self-educated genius who drew an incredible map of Mammoth Cave in the 1800s on memory alone. Bishop was also a slave in Kentucky at the time of his cave exploration, which reminds you how much history there is to learn and unpack during these parks visits.
The Green River At Mammoth Cave National Park, Mammoth Cave, Kentucky
This "river float" is not for the weary. Taking a 9-mile canoe trip through Mammoth Cave's famous Green River allows you to soak up everything the river has to offer, all while cruising around in a canoe. On my river float, I got to see an eagle's nest and a bald eagle flying around nearby. We also docked our canoes mid-way and got out and explored the woods nearby the nest. It was so relaxing to be on the water, and the beautiful green water definitely lives up to its name.
Abraham Lincoln Birthplace National Historic Park, Hodgenville, Kentucky
This was perhaps one of the most emotional parts of my park tour for me. Learning about how Abraham Lincoln's youth in Kentucky shaped his political leanings later in life was an incredible experience. When Lincoln was young, he likely witnessed slaves shackled together and marched across the main road to slave auctions. I learned on this tour that it is believed by park rangers and historians alike that this vision never left him, and was in part what ultimately led him to end slavery during his presidency.
It's incredible to learn about how a man born in a tiny log cabin grew up to live in the White House. It's even more interesting to understand how witnessing daily life in someone else's shoes might cause them to think about slavery in a different way. Lincoln's story represents the American Dream in a way that's been lost on the public in recent years. Connecting with this part of history, and then hearing about Alexandria Ocasio-Cortez recent victory in New York Congress weeks later, helped remind me that American Dream is not lost after all.
When it comes to spending time outdoors, I'm definitely not an expert, but I do enjoy mountain biking and being near rivers and lakes — I just get nervous at the idea of not having a warm bed to return to late at night, or having to commit to an entire day in the harsh sun. Going on a parks trip with guided bike tours, historical tours, and underground cave tours helped me feel like I did more than just spend a few hours outside: I actually got to learn something about America's past that relates so much to what it's going through today. Especially after college is over and higher education more or less stops, it's great to be able to dive head first into a tangible history lesson. Plus, it was so nice to being able to go somewhere outdoorsy with the comfort of a big city nearby. This experience actually helped me see that I do enjoy the outdoors after all. I just need to do it — cue the Frank Sinatra voice — my way.