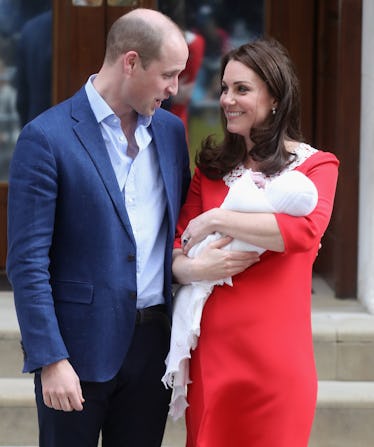 Here's What William & Kate Apparently Said To Each Other While Debuting Their New Baby
Chris Jackson/Getty Images Entertainment/Getty Images
The world is still partying since the arrival of Kate Middleton and Prince William's new baby on Monday, April 23. His little Highness made his debut on the steps of St. Mary's hospital where his older brother, George, and sister, Charlotte, also first said hello to the big, big world. Fans could see Middleton and William were speaking to one another on the hospital steps, but it was difficult to make out what they were saying. So, what did Prince William and Kate Middleton say while debuting their third baby? According to a lip reader, not that much.
Let me make myself very clear: Kate is a goddess among mortals and a superhero among men and we don't deserve her. Despite giving birth literally hours before addressing the public, Middleton appeared with her hair and makeup done, rocking a red dress and actual heels. She and Prince William took their time walking down a few steps outside of the Lindo Wing at St. Mary's, and graciously smiled and waved at their people. It was clear they were saying something to each other, but what could it possibly be at a time like this?
I imagine my comments to my husband after giving birth would be something along the lines of, "F this." But, according to Metro, Middleton and Williams kept their banter short and sweet.
Metro says their conversation went something like:
William: Are you OK with him?
Kate: Yeah.
William: Look, there he is. Over there. [They wave to the left]
Kate: Let's just wave over there for a bit. [They wave to the right]
Kate: Look, he is there. [They wave] It is a bit windy? He might get cold. Let's go now.
William: Sure.
I've watched the video maybe 15 times and I haven't made out even one of these sentences. But, maybe that's why I'm not a lip reader. Later in the day, as William and Middleton were putting their newborn in a car to head back to Kensington Palace, William joked with fans that he has "thrice worry now," holding up three fingers.
Daaaad, stop embarrassing the princes and princess!
Despite this seemingly simple conversation on the hospital steps, I'm certain there is an actual flurry of activity happening behind the scenes. I can't imagine what a new nursery in a palace looks like, but I bet the new prince's digs are totally MTV Cribs circa 2002-worthy.
The public has yet to learn the name of the new royal family member, but that hasn't stopped anyone from guessing. Right now, bets are on Arthur, Albert, or James, but it really could be anyone's game. Royal commenter Kate Williams told CNN Prince William and Middleton don't have to be as traditional with this child's name if they don't want to, considering the odds of him becoming a true monarch are slim thanks to where he's at in line for the throne. (Fifth, FYI.)
Kate Williams said, "George and Charlotte are very traditional, historic, English names. Although this is slightly different in that their first child, Prince George, is likely to be the monarch, and this child will likely not. So they can be a little bit different with the name."
Obviously, the Queen basically has the final say. Williams explained, "Of course they have such respect for the Queen that if she says 'I really don't like that name,' they'd definitely take that into account."
Hey, Queen. Don't blow this for us, OK?
WELCOME, LITTLE ONE! Your mom is my fantasy!
Check out the entire Gen Why series and other videos on Facebook and the Bustle app across Apple TV, Roku, and Amazon Fire TV.