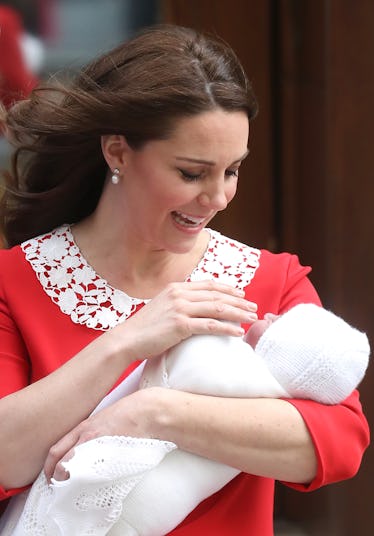 Kate Middleton Made Her First Appearance After Giving Birth & Her Outfit Is Absolutely Flawless
Chris Jackson/Getty Images Entertainment/Getty Images
Hi, everyone, and welcome to the world post-royal baby number three. Everything the light touches now belongs to Kate Middleton and Prince Harry's third child now, à la The Lion King and a rule I just made up because it sounds about right. Just when we thought the royal family themselves couldn't get any more regal, Kate Middleton's outfit leaving hospital after just giving birth just took Her Royal Highness the Duchess of Cambridge to a whole new level.
Early Monday morning, April 23, 2018, Kensington Palace confirmed that, at St. Mary's Hospital in London, Kate Middleton had gone into labor and was due to give birth very soon. Shortly after at around 8 a.m. ET, the Palace confirmed that the Duchess of Cambridge had given birth to a healthy little boy, revealing a few other details about the Middleton & Prince William's third child in a Tweet, including the time of the birth, the baby's weight, and whether or not Prince William was, in fact, present for the event:
Her Royal Highness The Duchess of Cambridge was safely delivered of a son at 1101hrs.
The baby weighs 8lbs 7oz.
The Duke of Cambridge was present for the birth.
Her Royal Highness and her child are both doing well.
Now, Kate Middleton and Prince William have appeared for the first time outside of the hospital with their beautiful new baby boy, and the family looks more joyful than ever. Of course, not only is Middleton glowing with joy over her newborn, but she truly looks like a stunning goddess. Seriously, if I have one wish in this world, it's to rock my first post-baby outfit and ~lewk~ as hard as Middleton is rocking hers:
Middleton stepped out for her first appearance post-baby number three wearing a bright red, three-quarter-sleeved, knee-length Jenny Packham dress, featuring a floral lace collar, as she cradled her newborn child. According to Marie Claire, Middleton has worn a Jenny Packham dress for her first appearance after giving birth to all three of her children.
Middleton's beauty look for her first appearance with her third child appeared very simple and natural, with a light contour, a pink lip, and soft, nude shadows on the eye.
Chris Jackson/Getty Images Entertainment/Getty Images
Gareth Cattermole/Getty Images Entertainment/Getty Images
Chris Jackson/Getty Images Entertainment/Getty Images
Chris Jackson/Getty Images Entertainment/Getty Images
She also wore suede nude pumps, her wedding ring, and small, pearl drop earrings. Needless to say, she certainly did not look like she had just been in labor and given birth just hours before. Seriously, Twitter cannot get over just how stunning Middleton looked:
As if this look wasn't perfect enough, it was seemingly a very personal tribute to Prince William's late mother, Princess Diana. As People pointed out, when Princess Diana made her first appearance after giving birth to Prince Harry, she, too, wore a bright red dress with a white Peter Pan collar. I was already emotional over the birth, but this sweet tidbit just put me over the edge.
According to Kensington Palace, Prince George and Princess Charlotte were already taken to meet their little brother at St. Mary's hospital. The two children were pictured with Prince William entering the Lindo Wing of the hospital, and TBH, I think Princess Charlotte's look could give her mom's look a run for its money. As seen in the photo below, Princess Charlotte wore a light blue floral dress (presumably in celebration of her new baby brother) with a navy blue cardigan on top. If you need me, I'll just be over here taking style tips from a toddler — seriously.
Speaking of Princess Charlotte, does the fact that Middleton had a baby boy screw up where Charlotte will fall in the line of succession for the throne? Well, it turns out, Princess Charlotte made history (and smashed the patriarchy) just by existing. OK, OK, maybe it also has something to do with the 2013 Succession to the Crown Act, which states that order of birth takes precedence over gender when it comes to who takes the royal throne. Therefore, according to People, the third baby still falls after Princess Charlotte in the line for the crown.
Congratulations to Middleton and Prince William on the birth of their third child! Hopefully, we'll find out the name of the little boy soon.