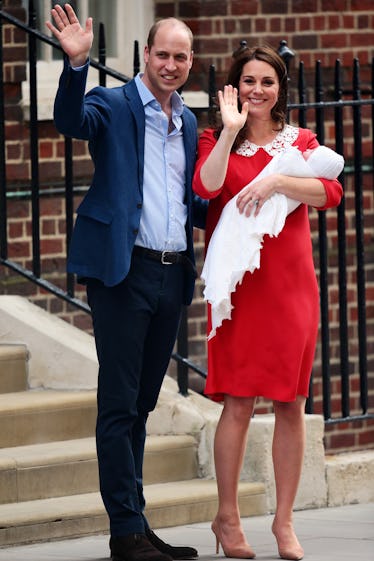 Prince William & Kate Middleton's Third Baby Made His First Appearance & He's Adorable
Jack Taylor/Getty Images Entertainment/Getty Images
The moment we've all been waiting for has finally arrived! The Duke and Duchess of Cambridge welcomed their third child — a little boy! — to the world on Monday, April 23, at St. Mary's Hospital in London. And even though it's only been a few short hours, we're now getting a glimpse of baby number three in his gorgeous mama's arms, and I am so here for the fact that this is already happening! Yes, the photos of Kate Middleton's third baby are here, you guys, and lemme just say, he is adorable!
UPDATE: In a tweet published on Friday, April 27, Kensington Palace confirmed that Prince William and Kate Middleton named their third son Louis Arthur Charles, adding that the baby will be known as His Royal Highness Prince Louis of Cambridge.
EARLIER: Middleton had a huge smile on her face and she stepped outside and cradled the little prince to her chest while standing next to William at the bottom of the steps of the Lindo Wing of St. Mary's. The Duchess was legit glowing in her red shift dress with white lace collar, and there must be something in the royal hospital water because who looks that good so soon after giving birth? Where are the swollen knees and ankles? I mean, she's actually wearing a pair of pointy-toe heels! And check out her newborn's sweet little face peeking out from inside his white swaddle. That skin! Those cheeks! That cute little nose! Have you ever seen anything so stinking cute?
I don't know about you guys, but I suddenly have a pretty intense case of baby fever.
Here's a closer look at the little guy just chilling in his car seat:
OMG I am in love! Seriously, my heart is melting. And clearly, so is Kate's.
The reveal comes not long after the Duke brought Prince George and Princess Charlotte — who were rocking matching blue outfits, get it? — to meet their new little sibling.
Look at Charlotte waving to her fans! This entire family is serious goals right now and I am just not worthy.
Kensington Palace announced that Middleton had gone into labor early in the morning of April 23, saying she and Prince William had arrived at St. Mary's Hospital in London. Baby number three arrived just a few hours later, and the news was officially announced on the steps of the Lindo Wing of St. Mary's by a Town Crier. Kensington Palace also shared the news of the birth on Twitter.
"Her Royal Highness The Duchess of Cambridge was safely delivered of a son at 1101 hrs," the tweet read. "The baby weighs 8 lbs 7 oz. The Duke of Cambridge was present for the birth. Her Royal Highness and her child are both doing well."
Now that we got that out of the way, who wants to go back to looking at baby pictures? Me!
OK, can someone please tell me what is going on in this shot, because I kind of need to know. Is an airplane flying by with a big "Congratulations!" banner? Is a chopper coming down to pick them all up? Is the Queen up there somewhere floating around in a hot air balloon? Did someone gift the baby with a royal drone?
I need answers! Whatever it was, the little guy really DGAF and continued to just snooze away as his parents carried him off in that car seat for the ride home.
BTW, we still don't know the newbie's name yet, but according to People, he will most likely be called Philip — after William's grandfather — or Albert, or Arthur. But like his older siblings, his full title will actually be His Royal Highness, Prince whatever-his-name-is of Cambridge. And don't you forget it! Wink, wink. It may be a few days before we get the official baby name reveal, so until that time I'm just gonna go ahead and call him Prince Chill AF.
Welcome to the family, little rockstar!