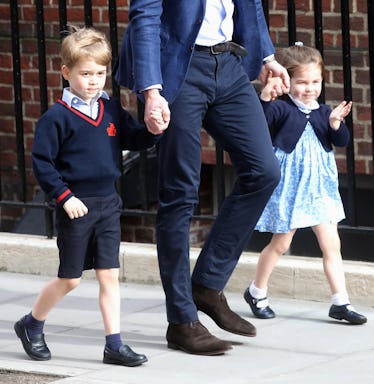 George & Charlotte Went To The Hospital To Meet Their Brother & Twitter Couldn't Handle It
Chris Jackson/Getty Images Entertainment/Getty Images
Are you guys sitting down? BECAUSE IT'S ROYAL BABY DAY, BABY! Kate Middleton and Prince William just welcomed their third child, a baby boy, to the world and the UK is rejoicing. Middleton gave birth on Monday, April 23 at St. Mary's hospital, where she delivered her first two children, Prince George and Princess Charlotte, as well. Now, tweets about Prince George and Princess Charlotte going to the hospital to meet their new brother prove fans are more excited than they probably are. What can I say? THE PEOPLE LOVE TO LOVE YOU GUYS!
On the morning of April 23, Kensington Palace released the following message letting the public know Middleton was in labor:
Her Royal Highness The Duchess of Cambridge was admitted to St. Mary's Hospital, Paddington, London earlier this morning in the early stages of labour. The Duchess travelled by car from Kensington Palace to the Lindo Wing at St. Mary's Hospital with The Duke of Cambridge.
A few hours later, they announced the new prince's arrival. Kensington Palace tweeted,
Her Royal Highness The Duchess of Cambridge was safely delivered of a son at 1101hrs. The baby weighs 8lbs 7oz. The Duke of Cambridge was present for the birth. Her Royal Highness and her child are both doing well.
The Palace also tweeted,
The Queen, The Duke of Edinburgh, The Prince of Wales, The Duchess of Cornwall, Prince Harry and members of both families have been informed and are delighted with the news.
HIP HIP, HOORAY!
Soon after, an announcement was posted outside Buckingham Palace, as is customary with royal babies. A tweet from the Royal Family read,
A notice has been placed on the forecourt of Buckingham Palace following the announcement of the birth of The Duke and Duchess of Cambridge's third child. @KensingtonRoyal
Sky News' live feed caught Prince William popping out to scoop up his kids later in the afternoon. Shortly thereafter, he returned with little Prince George and Princess Charlotte in matching navy blue outfits looking sweet as pie. While I'm sure they ~*sort of*~ understood what was going on, it's safe to assume they really had no idea what was waiting for them in St. Mary's. (Bless their little perfect matching outfit hearts!)
Would you please take a look at these photos?
Obviously, Twitter had some feelings.
Some people laughed at how low-key Prince George seemed about the whole thing.
Other's couldn't get over Princess Charlotte's dreamy little wave.
Their visit was short, but so much fun to see anyway. The kids stayed at the hospital for about 20 minutes before leaving out a back entrance, according to Sky News.
Shortly after Prince George and Princess Charlotte said their hello's and goodbye's, Kensington Palace announced Kate and the baby would be returning home later in the evening.
Shortly after that tweet was published, Prince William, Kate, and their new son appeared on the steps of the Lindo Wing to show their new baby off to the world. Prince William looked dapper in a navy suit and Middleton looked amazing in a bright red dress, holding her son in a white blanket.
The official Kensington Palace twitter account also wrote, "Their Royal Highnesses would like to thank all staff at the hospital for the care and treatment they have received. They would also like to thank everyone for their warm wishes."
Uh, you're welcome. Like, anytime.
So, when will we see the newest royal baby again? We're not exactly sure, but his sister Princess Charlotte's third birthday is coming up on May 2, so fans are hoping to get a glimpse of all three siblings together then.