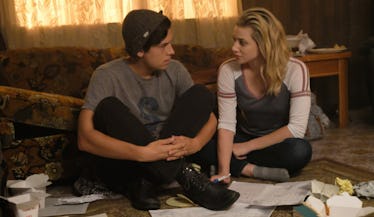 Betty Got A Letter From The Black Hood On 'Riverdale' & We Have So Many Questions
CW
Riverdale's mysterious new serial killer is speaking out again, and this time it's directly to Betty Cooper. The latest episode of Riverdale revealed that the Black Hood has a scary obsession with Betty, which he laid out in an ominous letter to her. So what did the Black Hood's letter to Betty say, and what can we deduce about his identity from this new info? Let's go into Betty Cooper mode and investigate. Spoiler alert: This post is going to talk about details from Season 2 Episode 4 of Riverdale "The Town That Dreaded Sundown," so don't read on until you've seen it.
At the start of the new episode, we see Betty opening a large manila envelope from the Black Hood, which contained a letter addressed to her as well as a cryptogram that he said would outline where he was planning to attack next. The letter is super upsetting and disorienting for Betty, because in it the Black Hood says that she is the person who actually inspired him to start his killing spree. He writes that Betty's speech at the town's 75th Anniversary Jubilee (which he saw in the Season 1 finale) motivated him to start killing residents he considers to be sinners.
We had already learned previously that the Black Hood is targeting "sinners" as his victims in his first letter, which was published in the newspaper and addressed the town at large. He shot Fred Andrews due to the fact that he had an affair with Hermione Lodge while both were still married to other people. He killed Mrs. Grundy because she was sleeping with underage boys, and attempted to kill Moose and Midge after finding them taking illegal drugs in the woods.
Obviously, this revelation that Betty inadvertently inspired the Black Hood with her speech calling for Riverdale residents to stop keeping secrets and do better was incredibly jarring for her. And things get even creepier when the Black Hood's letter says that only Betty will be able to solve the cypher that he included with the note. Betty eventually realizes that the puzzle is taken from a Nancy Drew book that she used to constantly check out from the library, and is able to solve it and reveal that the killer is next planning to strike at "the place where it all began," which Betty assumes means town hall, where she gave her Jubilee speech.
Betty is able to make it to town hall and gets everyone to evacuate, but we never see any evidence of the Black Hood planning to attack there. So, did Betty actually manage to save everyone in the town hall meeting or did she misinterpret what "where it all began" is actually referring to? I'm inclined to think the latter.
The new letter is probably the most revealing piece of information we've gotten about the Black Hood thus far. From it, we know that he was definitely at the Jubilee celebration last season and that even though he's killing tons of people in town, he likely cares very deeply about Riverdale if Betty's speech inspired him. And let's not forget about how he knew about the book Betty used to check out from the library as a child. That definitely means the Black Hood has known Betty for a long time.
So where does that leave us in terms of the killer's identity? The new clues are pointing to someone close to Betty, possibly even within the Cooper family. We know that Betty's long-lost brother Chic is appearing this season, so he sounds like a prime Black Hood candidate. There's also some pretty convincing evidence that Betty's mom, Alice Cooper, is involved somehow, since she knew about the indiscretions of all the victims and seems just as intent on "cleansing" the town as the Black Hood does.
Maybe it's time to take a another look at the people closest to you, Betty.