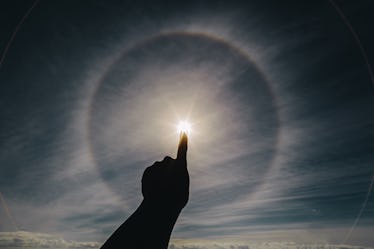 2018 Is All About Growing Up, So Here's What's In Store For Your Zodiac Sign
Is it just me, or does the coming of this particular new year seem even more intense and loaded than past years? Could it be because 2017 consisted of one wrecking ball right after the other, and we're just hoping against hope that 2018 is just a tad lighter and easier on us all? Whatever the case may be, if you, like me, are anxious to find out what 2018 has in store for you, I'm here to help interpret the coming year, according to the masters of the zodiac. The planets are moving, my friends, and we are moving with them.
For one thing, the planet Saturn has officially moved into the constellation Capricorn for the next two and a half years or so. As astrologer Chani Nicholas wisely notes,
In astrology, the signs are the style in which a planet expresses itself.
When a planet is in one of its own signs it operates with un-compromised strength.
Specifically, Capricorn is a sign that gets the damn thing done, so to speak.
And as for the planet Saturn, it "rules" or symbolizes limitations, restrictions, and brings us back down to Earth to really fulfill some of our obligations and purposes in life. Even if that seems a little daunting, remember that it's always healthy to be looking ahead with the intention of mental and spiritual growth. It's all about becoming the best version of yourself that you can possibly be.
And whether or not you're onboard with the zodiac, think about approaching your astrological forecast as anything other than future predictions. Think of it more like an approach to self-knowledge, a kind of map that might help cultivate an awareness or identification with certain aspects of your personality, and connect the movements of your life with something much larger: namely, the rhythms of the universe.
Personally, I'm here for any new lens that gestures toward personal insight and tools that might help me heal old emotional wounds, change unhealthy patterns, take chances, or even just appreciate a job well done.
Again, this is all to be taken as it applies to you. None of it is gospel, but rather, a simple form of guidance. As the popular astrological guru Susan Miller told Vanity Fair, "I've spent my whole life showing people what astrology can do." She added, "I'm not a fortune-teller. The most misunderstood quality about astrology is that there's predestination involved—there's none."
So let this serve simply as a helping hand as we approach a year of hard work, change, and a little growing up. Here's what 2018 has in store for you, according to your zodiac sign.