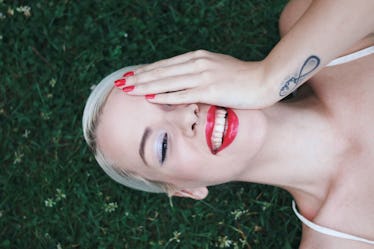 5 Mantras To Recite After A Bad Date To Lift Your Spirits Again
What makes a date bad? Honestly, it can be a wide variety of factors. Maybe the person is straight-up rude. Maybe they have a few too many shandies and start to get sloppy. Maybe the conversation is just dull AF. Regardless of the particular brand, if you went on a bad date, one thing's for sure: it can be pretty discouraging. After getting your hopes up about that cutie from the office or a match on your dating app, your fantasies have been shattered, and now you're feeling — well, a little bit jaded..
First off, rest assured that you're not alone. If I had a penny for every time one of my friends texted me to share their dating horror stories, TBH I'd be probably chipping away at my grad school loans. There was the guy who, on a first date, showed up straight up hammered to meet my friend Kelsey, kept shouting "GO SOX" out of nowhere and then passed out right on the bar while she was in the bathroom (#BostonBros). Then there was the guy who asked my roomie out for dinner, took her to get $6 burritos, didn't offer to pay for hers and kept disappearing to the bathroom for long periods of time. Honestly, I could go on and on.
A bad date can leave a sour taste in your mouth, that's for sure. But I have five words for you: You will get through this. And when you're really struggling to recover from whatever horror show you went through, try repeating these mantras to instantly lift your spirits.