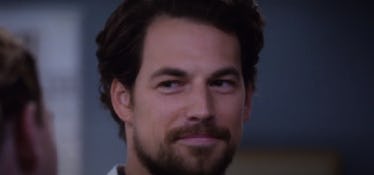 'Grey's Anatomy' Fans Have A Theory About That DeLuca & Meredith Scene In The Teaser
ABC
It's the kiss that might as well be seen around the world. In the Grey's Anatomy Season 15 teaser, Meredith's romantic rut seemingly halted to a stop when DeLuca flirtingly approached her, leading to their steamy makeout session in bed. For longtime viewers, the potential hookup is totally unexpected, which is why some fans are still skeptical about the validity of this scene. Was DeLuca hooking up with Meredith a dream? Viewers have theories about what the Grey's Anatomy tease could really mean.
As the new season's tagline promises a time of love, Meredith meeting Prince Charming 2.0 is expected to be a highlight of Season 15. Ellen Pompeo has recently spoken about the struggle in casting a love interest that is worthy of replacing Derek Shepherd, and while DeLuca (Giacomo Gianniotti) could resemble Derek if you squint, some viewers feel that the show possibly throwing him into a romantic relationship with Meredith is awkward. After all, he just had a will-they-won't-they fling with intern Sam Bello, and since that ended, he hasn't exactly hinted about wanting anything more serious in relationships. To top off the impression that he isn't prepared to commit to someone, DeLuca also isn't the most interesting doctor on staff. Meredith needs some substance in a partner, right?
ABC so willingly gave away the plot point of Meredith and DeLuca together that the likelihood of their hookup being a fantasy has risen among fans. On Reddit, user facialscanbefatal pointed out that the show's previews have planted red herrings before, writing:
They've done that kind of stuff before — show us one thing only to have something else happen, like when they showed the immigration issue in the preview for last season and implied it was the Muslim intern's issue when it turned out to be Bello.
It does feel a little off for the show to drop this bombshell without context, and perhaps making it a dream is just a sign that Meredith is ready to embrace some romance again. However, not all Grey's Anatomy fans are totally against the hookup being real, and Reddit user lady_fresh writes:
[DeLuca]'s proven to be capable of maturity (his relationship with Maggie), and I think he could handle just being in a casual fling, and with Meredith the surgical God of all people, without being needy, clingy, or wanting anything more. If they hooked up a few times, I don't think it's the worst thing.
No matter if Meredith's romp with DeLuca is real or not, we definitely don't have to worry about their relationship in the long run. Grey's Anatomy showrunner Krista Vernoff has essentially confirmed that while Meredith's pep talk in the Season 14 finale will help DeLuca gain back some positive energy, he's definitely not her true love. Never say never, but it sounds like he's sentenced to be Meredith's rebound relationship in the first half of Season 15. If that's a crucial step on the way to Meredith finding love again, then we'll have to make do with these possible dalliances with DeLuca.
Season 15 of Grey's Anatomy premieres on Thursday, Sept. 27, at 8 p.m. ET in a two-hour episode on ABC.