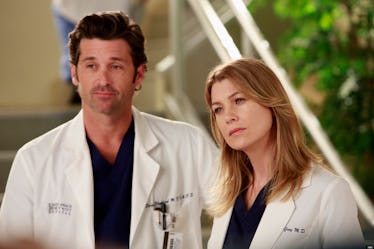 Ellen Pompeo Explained Why She Thinks Meredith Hasn't Found Love Since Derek On 'Grey's'
ABC
From a passionate "choose me" speech to a Post-It note detailing the terms of their marriage, nothing quite defines romance on Grey's Anatomy like the relationship of Meredith Grey and Derek Shepherd. Having a steamy hookup in the pilot episode before learning Meredith was a new intern at Derek's hospital, the two experienced a storybook romance culminating with Derek's heartbreaking Season 11 death. Since then, love hasn't come easily for Meredith, and Ellen Pompeo's Grey's Anatomy quotes about Meredith and Derek explain why the widowed mother just hasn't found a new partner yet.
Now more than three years after Derek's death from injuries in a car accident, it's totally logical for Grey's Anatomy to bill the upcoming Season 15 as the "season of love." Meredith has had enough time to grieve and in the past few seasons, she experienced enough fleeting flirtations to realize that her heart isn't out of commission just yet. But as any actual widow would probably agree with, moving on from your greatest love and the father of your children isn't easy. Pompeo explained to Entertainment Weekly why Meredith couldn't fall for someone else so quickly, saying:
Patrick Dempsey is a very tough act to follow, and it's challenging to get someone to come on a season 15 show. We're gonna find someone who makes an impact. That's our biggest challenge this year.
She has a point — what kind of character could possibly ease the blow of Meredith being with someone other than Derek?
After a promising connection with patient Nick Marsh in Season 14 and losing Nathan Riggs to the return of his long-lost fiancée, Meredith is definitely overdue for lasting romance. The Season 15 trailer teases her steamy, surprise makeout with DeLuca, but going by clues Grey's Anatomy showrunner Krista Vernoff has released, he's more of a rebound for Meredith than a strong relationship prospect. In an interview with TVLine, Grey's Anatomy co-star Camilla Luddington also offered the suggestion that the season will contain "experimenting" for Meredith rather than a relationship forming immediately. Cue DeLuca!
The return of romance for the show's leading lady comes after ABC reportedly tried to introduce a new love interest soon after Derek's death. Earlier this year, Pompeo told The Hollywood Reporter:
The truth is, the ink wasn't even dry on [Dempsey's] exit papers before they rushed in a new guy... and they're calling me, going, 'What do you think of this guy?' 'What do you think of this guy?' And they're sending pictures. I was like, 'Are you people f**king nuts? Why do you feel that you have to replace this person?'
Given that Season 15's theme promises tons of fluffiness and love, it finally feels right that Meredith will be on the lookout for a new guy this year. We can expect new episodes to kick off with Jo and Alex still in their newlywed bliss, so maybe some of their good vibes will rub off on Meredith sooner rather than later. We're not asking for a carbon copy of Derek, of course, but someone who can be Meredith's adoring equal would be nice.
Season 15 of Grey's Anatomy premieres on Thursday, Sept. 27, at 8 p.m. ET in a two-hour episode on ABC.