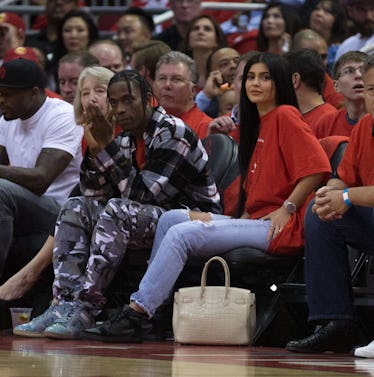 Travis Scott FaceTimed Kylie Jenner During A Performance & The Video Is So, So Cute
Bob Levey/Getty Images Sport/Getty Images
If you thought the judging eyes of millions and millions of people from all over the world and one super hot pregnancy rumor were enough to scare rapper Travis Scott away from girlfriend Kylie Jenner, think again. The two have been weirdly going strong hot on the heels of Jenner's breakup with ex Tyga, and now with the reported baby news, fans are paying extra close attention to the new duo. A recent video of Travis Scott FaceTiming with Kylie Jenner in front of a crowded room proves he doesn't give one little F what you think. This man is in love.
Rumors first hit the stratosphere that Scott and Jenner are expecting on Sept. 22, setting off one of the largest social media storms since Kim Kardashian broke the internet with her butt. You would think – given the family's experience maintaining and responding to public rumors – we would have been given a straight answer within 48 hours. Not this time. Somehow, mom-ager Kris Jenner has let the pregnancy rumors slide for over three weeks without a straight confirmation or denial. In the meantime, Scott has maintained his regular ol' social media presence (which is a series of pictures of himself looking moody on Instagram) and Kylie is posting lots of old photos or recent pics from the neck up.
So, SO suspicious.
I don't know. I don't know. I don't know.
The recent video of Scott and Jenner FaceTiming might be the first time the public has seen Scott smile and/or the two interact in real time.
Scott was doing a DJ appearance at the Ksubi store in New York City's SoHo when it all went down.
If you're like me and only shop at Target and Old Navy online, you might feel compelled to do a quick "Ksubi" Google search. Don't worry — I gotchu. Looks like it's a clothing store that is doing some sort of collaboration with Scott and mostly sells expensive distressed denim jackets. My unsolicited advise is to save your money for the next Kylie Lip Kit.
BUT ANYWAY, BACK TO THE FACETIME.
While Scott was DJing in front of a small crowd, like mid-set, he stopped to talk to someone on his phone. To the ecstatic crowd's delight, he turned his screen to face the audience, revealing a smiling Kylie Jenner.
Take a look.
I mean, can you even with this?
I have so many questions. Like... could they even hear one another? Who called who? Did he say to her, "Hey, heads up... Put your pregnant belly away, I'm about to show everyone your face"?
Also, who is that other man doing what looks like all the real DJ work?
Ugh, such mystery. But one thing is for sure – this video proves the two are still going strong.
According to People, the couple is reportedly due in February, and both are looking forward to being parents. A source told the magazine in late September 2017,
They started telling friends a few weeks ago. The family has known for quite some time. She is really excited and so is Travis.
According to another insider, Scott has even been telling people since July 2017. They said,
He was so excited he couldn't keep it in. He's been so affectionate and protective of Kylie since they found out. He can't wait to be a dad.
And we all can't wait to be aunts and uncles and God parents to the lucky kiddo!
Baby Jenner-Scott, you have a whole world waiting for you with open arms and iPhone cameras.
Check out the entire Gen Why series and other videos on Facebook and the Bustle app across Apple TV, Roku, and Amazon Fire TV.