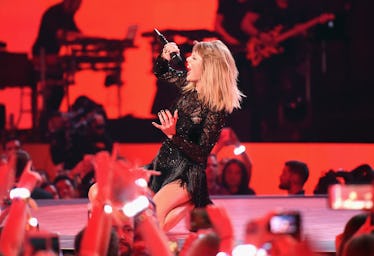 This Newscaster Filled Her Traffic Report With Taylor Swift Songs & It's Brilliant AF
Kevin Winter/Getty Images Entertainment/Getty Images
Hey T. Swift, look at what you made this reporter do! On Nov. 10, the day that Reputation dropped, a St. Louis newscaster made her report a celebration of the songstress's sixth album. The video of the Taylor Swift-themed traffic report was certainly a lot of fun, but the best part is that Swift saw the report and was a big fan herself.
Laura Hettiger, the co-host of Great Day St. Louis on KMOV, used Swift's lyrics and song titles throughout her traffic report for the region. "You know what? Just shake it off. If you are about to start a drive into downtown St. Louis, there is a lot of blank space," she said referencing Swift's hits "Shake It Off" and "Blank Space."
"I don't have to say look what you made me do because traffic looks good all over the St. Louis area," Hettiger continued. "I could have a love story with how traffic is developing there," she added later, referencing the songs "Look What You Made Me Do" and "Love Story."
At the end of the report, Hettiger explained why the traffic report might have been a little more confusing than usual and told viewers to go get the album.
It turns out that it was a good day for traffic and an even better day for Hettiger. Swift herself saw the report, thanks to her family members who live in the area. She tweeted at Hettiger that her cousins sent her the video and that she more than loved the newscast — she loved Hettiger herself.
Hettiger was equally as excited by the songtress's post about it. She retweeted Swift's response in disbelief and with a play on the title of the show she co-anchors.
For anyone who follows Swift, it should come as no surprise that she responded to Hettiger on social media. In the lead up to her album, Swift had private listening sessions for her most devoted followers and she's been known to reach out to people who post about her on the web. So, obviously, integrating a bunch of her songs into a traffic report on television ranks pretty highly in terms of fandom.
Reputation came out on Nov. 10 — and is primed to debut at number one — after Swift dropped singles week by week. The album signaled a shift from Swift's good all-American girl image to her embrace of celebrity feuds and bad press coverage. In recent years, Swift has beefed back and forth with Kanye West (and received generally unfavorable coverage due to the feud).
At the same time, fans have speculated that Reputation is in part a story about Swift's private romance with boyfriend Joe Alwyn. Alwyn is a British actor and unlike the singer's previous paramours, the pair have seldom been seen together in public. A piano performance of her song "New Years Day" in advance of the album's release had her devotees gushing that it was the perfect wedding song.
This past weekend, fans were treated to another performance from Swift on Saturday Night Live. Similar to Thursday's pared-down piano performance, she took the stage with her guitar for "Call It What You Want" after performing "Ready For It" earlier in the night.
While Swift's latest album is one of 2017's most anticipated releases, it could could be her biggest seller, too. In the first day alone, the album sold 700,000 copies, which means it may be on track to sell over one million by Nov. 16, according to Billboard. That's an especially big deal considering Swift's last album 1989 sold 1.29 million copies in its first week.
According to the publication, it could just about crush any other albums coming out this year. So far, Ed Sheeran holds this year's record with 909,000 copies of his album Divide sold.
The only traffic jam Swift's album is bound to create is a jam at the top of the charts.