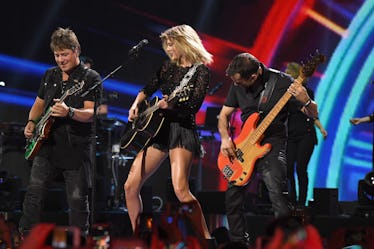 Taylor Swift Performed "Call It What You Want" Acoustically & Sounded Just Like The Old Taylor
Larry Busacca/Getty Images Entertainment/Getty Images
Taylor Swift's much-anticipated new album Reputation dropped on Nov. 10 — and we're finally getting to reap the benefits of the long, long wait. The singer has come out of hibernation for a bit, which means that she's making some television and radio appearances, and thus delivering so much joy to Swifties worldwide. Taylor Swift's "Call It What You Want" SiriusXM performance is all kinds of stripped-down beautiful, and *bonus points,* it sounds a lot like old school T-Swift.
On Friday night, Swift dropped by SiriusXM to promote her new album and do a little performing. The singer sang a new, slowed down version of "Call It What You Want," and — minus the techie beat — it's a whole lot more ethereal and... dare I say... a little bit reminiscent of the old Taylor? Like, I'm talking deep cut "Hey Stephen" Taylor.
The singer also delved into the genesis of the album while on SiriusXM, explaining that the track list progresses just as her own life did while writing the songs. She explained,
Reputation, in my mind, is an album that is very linear in its timeline. Meaning that it starts out kind of where I was when I first started making the record. The album ends more with where I am now in my life. And so this is towards the end of the album.
Doesn't listening to that make you sort of long for Taylor with her corkscrew curls, singing innocent songs about teen love and throwing rocks at cute high school boys' windows?
But I digress.
Based on Swift's own description of the album's start-to-finish process, "Call It What You Want" was most likely written about her current beau, Joe Alwyn. And, judging by the lyrics, things are going quite well in that department.
Cause my baby's fit like a daydream
Walking with his head down
I'm the one he's walking to
So call it what you want yeah, call it what you want to
My baby's fly like a jet stream
High above the whole scene
Loves me like I'm brand new
So call it what you want
Yeah, call it what you want to
All my flowers grew back as thorns
Windows boarded up after the storm
He built a fire just to keep me warm
*Sigh.*
Plus, a fan who attended one of Swift's secret sessions confirmed that the singer's other track "Gorgeous" is about Alywn — so that all seems to add up. The Tumblr user wrote,
Basically Taylor made us promise that if anyone made accusations of who this song is about, we tell them that it is 100% about her angel boyfriend of one year.
(this isn't a secret, she wanted us to tell people.)
Based on some (non-obsessive) researching I've been doing about Swift and Alwyn's relationship, it sounds like they have a lovely, comfy thing going on. It's also quite steamy (see Swift's song "Dress" for more).
"Taylor loves to cook and bake for him ... She's always said she wants a big family and she sees herself having kids with Joe down the line," an insider told Us Weekly. "Taylor really believes he's the one for her."
A source added to PEOPLE Magazine,
Their relationship is very different from Taylor's past ones. They much prefer having dinner parties at home with friends than going out. Just like Taylor, Joe is a homebody. He loves being an actor but doesn't like the celebrity part of it. It's pretty special to find someone you're on the same page with.
OK, probably best to go re-listen to Swift's new version of "Call It What You Want" now and dream of all the British beaus.