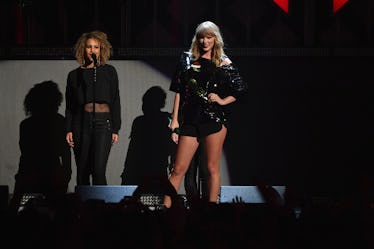 Taylor Swift & Joe Alwyn Showed Major PDA During An Ed Sheeran Song & There's A Video
Dia Dipasupil/Getty Images Entertainment/Getty Images
In 2017, Taylor Swift is basically the soundtrack to romance (the occasional diss track notwithstanding). And she's been so unlucky in love herself that fans are thrilled to finally see her happy — which is why when these social media video of Taylor Swift and Joe Alwyn's PDA at an Ed Sheeran performance started making the social media rounds on Dec. 10, fans were immediately over the moon about it. Revel in that sappy, emotional moment, Tay!
Tweets about the couple took off on social media Sunday evening after fans spotted the pair's sweet PDA moment during Ed Sheeran's set at the Capital FM Jingle Bell Ball in London on Dec. 10. While Sheeran performed his song "Perfect," a couple of fans noticed there was apparently a little romance going on in the front row — namely, Taylor and boyfriend Joe Alwyn were holding each other and swaying to the music together, in the approved style of a couple during the slow song at a concert everywhere. It was honestly super cute.
And oh man, fans were losing it. I mean, besides her music, Taylor Swift is kind of known for her rough dating life. So the fact that she's not only so clearly happy, but feels good enough about it to show it off in public, meant fans were cheering right along with her.
And OK, yeah, so the videos aren't in HD. I'll take what I can get, guys. We know they're there, and it's kinda perfect!
And anyway, there were a few photos (a little more hi-res and defined) going around to show how adorably lovey-dovey the pair got.
Ugh, my heart.
Fans who were privileged enough to witness the whole thing were completely freaking out, as evidenced by the tweets:
It's not the only PDA we've seen from them in recent days (!). Just the previous night, also at the Z100 Jingle Ball in New York City, the pair were spotted leaving together, presumably heading over to Taylor's apartment. And why yes, they were holding hands and looking downright adorable.
And to boot, at the Dec. 10 show (where Taylor also performed) Joe was caught on video filming Taylor's performance of "Shake It Off" with his smartphone, according to The Sun. A video from the crowd showed him panning around to capture the crowd cheering her on. Seriously, showing your girlfriend how proud you are of her and how awesome she's doing? That's a solid boyfriend move, Joe! Ten points to Gryffindor. Good job.
The couple is clearly still going strong, passing a year of them meeting. The two supposedly met at a Kings of Leon concert (so, I guess I wouldn't be surprised that concerts might be a romantic place for them) back in October 2016, according to Cosmopolitan UK. But they didn't confirm their relationship until May of this year — so how long they've actually been dating is anyone's guess.
But Taylor's clearly smitten. When her new album, Reputation, dropped back in November, fans were convinced that a bunch of the songs on the new album, including "Gorgeous," "Getaway Car," and "New Year's Day," were all about Alwyn. It didn't hurt that she apparently told fans at her secret listening sessions that "Gorgeous" was definitely about Joe Alwyn, and she wanted everyone to know.
So basically, what I'm saying is that as far as celebrity relationships go, Taylor Swift and Joe Alwyn are kind of #goals. And when it comes to concerts, a little PDA is perfectly appropriate and normal. Get it, guys. Keep on being cute AF — your fans love it.