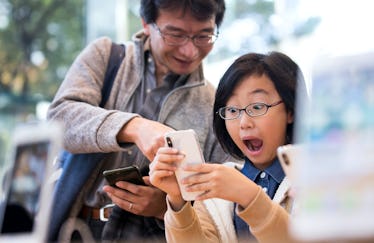 The iPhone X Face ID Met Its Latest Match With This $150 Mask
Tomohiro Ohsumi/Getty Images News/Getty Images
Don't dispose of your Halloween costume just yet — there might be some tech tricks you can try with that horror movie ensemble. A video of a mask unlocking the iPhone X prove Face ID might not necessarily be 100 percent accurate all the time. If you're looking to try out similar scenarios, now is the time to relive All Hallow's Eve.
Vietnamese cybersecurity firm Bkav wanted to put the highly anticipated smartphone to the test. Ever since Apple's keynote address in September, techies all over have buzzing about the Face ID, as it replaces previous devices' home screen, and in turn, passcode system. The odds of breaking into the X was highly unlikely, so that made people even more determined.
A mixture of 3D printing, makeup, and 2D images, Bkav's mask sports a spooky look, but on the cheap. For roughly $150, the firm was able to create the mask that defeated Apple's new security system. Members of the company bought an iPhone X on Nov. 5 — two days after the device went on sale — and they were able to figure out how to hack into the system in under a week's time.
If you thought Freddy and Jason are capable of giving you nightmares, wait until you see what this creepy mask is able to do.
Though somewhat humorous, Bkav takes this security breach seriously for one main reason. The company gives a rundown of this test on its website, explaining how they got everything to work. Here's why this hack matters, according to Bkav's Q&A:
Potential targets shall not be regular users, but billionaires, leaders of major corporations, nation leaders and agents like FBI need to understand the Face ID's issue. Security units' competitors, commercial rivals of corporations, and even nations might benefit from our PoC.
Bkav continues,
With Face ID's being beaten by our mask, FBI, CIA, country leaders, leaders of major corporations, ect. are the ones that need to know about the issue, because their devices are worth illegal unlock attempts. Exploitation is difficult for normal users, but simple for professional ones.
Mashable decided to put the gadget to the test with the help of two sets of twins: MJ and Marc Franklin and Carlos and Alex Cadorniga. The brothers gave it a whirl... and that's when it happened. Not only were the fellas allowed to gain access into their siblings' phones with Face ID, but they were able to do so twice. The device unlocked with ease, and soon private notes and text messages were up for grabs, which could be big trouble in sibling territory.
However, Business Insider tried the same trick with identical twins, 36-year-old Greg and Brian Fieber, but the device outsmarted them. "I was pretty shocked that the iPhone X could really pick apart the details between me and my brother considering some of our own family members can't tell us apart," Greg told Business Insider. "So, yeah, it was a pleasant surprise knowing that Brian can't break into my iPhone X and I can't break into my brother's."
There are definitely ways to outsmart the device, if you're willing to try hard enough. For those non-hackers who are looking to enjoy Face ID, you absolutely need to start playing with Animojis — the new method of communication that allows the emojis to mimic your expressions. It's a must for all text messages going forward.
Time will tell how Apple will respond to those clever cleavers looking to bypass the iPhone X's new security measures. Until then, enjoy your Animojis and keep your cell away from anyone who seems threatening.
Check out the entire Gen Why series and other videos on Facebook and the Bustle app across Apple TV, Roku, and Amazon Fire TV.