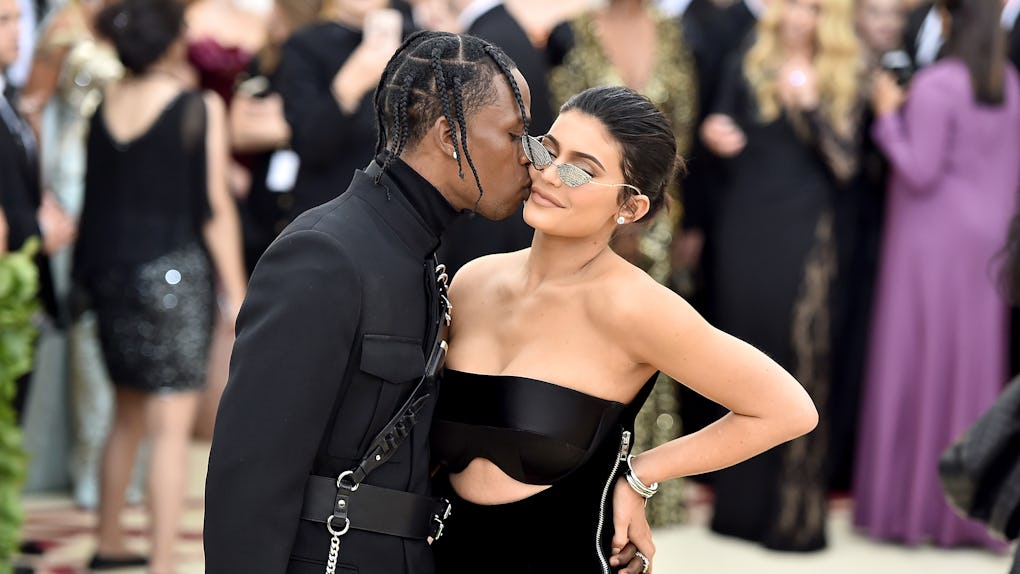 Theo Wargo/Getty Images Entertainment/Getty Images
Video Of Kylie Jenner Supporting Travis Scott At His Concert Is Relationship Goals
Kylie Jenner might be having her best summer yet, TBH. In addition to a slew of magazine covers and Forbes naming her one of the youngest self-made female millionaires ever (NBD), she got to play proud girlfriend while boyfriend Travis Scott headlined a Lollapalooza show in Chicago over the weekend. True to form, the makeup mogul documented everything on Snapchat, and video of Kylie Jenner supporting Travis Scott at his concert proves that she's his number one fan. Aw.
Scott's set closed out the first day of the festival on Thursday, Aug. 2, and Jenner made sure that she was on hand at the annual music festival to support her beau, according to The Daily Mail. In another series of videos shared to her Snapchat on Saturday, Aug. 4, the Keeping Up With the Kardashians star can be seen showing off her famous pout while rocking a black printed crop top before she headed out to support her boyfriend's viral new album.
It's not clear if these videos are from Scott's Lolla set (since they were posted on Saturday, Aug. 4), but Jenner — who was seen partying and dancing on a balcony during the "Butterfly Effect" hitmaker's set — also shared a video of the huge crowd of concertgoers who were rocking out to Scott's performance. She was literally the proudest girlfriend, and it was so cute.
Wonder what Ky thinks of bae's new album? She also took to Instagram to share her thoughts alongside a photo of her dressed in an Astroworld t-shirt, and it's clear that she's as blown away by his new music as I am.
She wrote:
You didn't have to go this hard baby 😢 Astroworld just dropped and it's the craziest ride of my life 😫😍😍
Yep, pretty sure that's how we're all feeling right now. Plus what better way to promote Scott's new album than by sporting his t-shirt? I'm loving all the support here.
While the entrepreneur has been notoriously private about her relationship with the rapper, that all started to change when the pair made a joint and very sultry appearance on the cover of GQ. Suddenly, I (and the rest of the world, it seems) started loving them together. Not only did the new parents seem in sync and on the same page about their relationship and co-parenting Baby Stormi, but they also revealed some little-known facts about their romance that made me realize how cute they are together. I mean, how can you not root for a couple that seems so genuinely in love?
While the release of Astroworld created plenty of buzz, the rapper has also been making headlines over the weekend for another reason. Scott has been facing accusations of transphobia for his decision to edit transgender model Amanda Lepore out of the cover art imagery, per E! News. On Saturday, Aug. 4, the 26-year-old finally responded to the backlash by reiterating that the album is about "love and expression, not hate" in an open letter shared to Instagram.
"This is very important for me to speak up about," he began. "Growing up I've been taught to accept everyone, not to cast people away but bring them in your home! I have nothing but respect for the LGBTQ community."
He continued, "I want to use my voice to make it clear that everyone on this planet is as equal and f--king awesome to the next" before teasing Lepore, "Yo, Amanda, you did upstage everyone—even me."
Lepore showed that she didn't have any hard feelings as she responded that she had "nothing but LOVE" for the musician via Instagram and put all the drama to rest. Judging from Jenner's latest supportive vids at Scott's concert, I think it's safe to say that she also has his back.