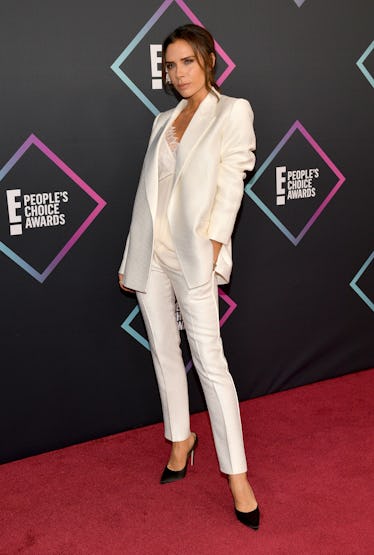 Victoria Beckham Just Made The Best Spice Girls Reference In Her People's Choice Awards Speech
Matt Winkelmeyer/Getty Images Entertainment/Getty Images
So, tell me what you want, what you really, really want. (Take note: this will be just one of many Girl Power references, so take heed.) If it's Victoria Beckham at the 2018 People's Choice Awards, then you're in luck. If it's to have Victoria Beckham's People's Choice Awards acceptance speech chock full of Spice Girls references then you're definitely in luck, because that's exactly what happened. And guess what? She looked like the biggest fashionista while doing it, in true Posh Spice form.
So, here's what happened. It was announced last month that Beckham was to receive the first-ever Fashion Icon Award at the award show. "I feel so honored to be receiving the first ever fashion icon award at the E! People's Choice Awards," Beckham said in a press release.
"This year I am celebrating 10 years of my brand, and this is a wonderful way to mark that decade. I am so grateful to be the inaugural recipient. I love what I do, and love that I have been given the opportunity to empower women through my collections. November 11 will be a very special moment for me."
And look, Posh Spice did not disappoint, looking gorgeous in a crisp, fitted all-white suit. I mean:
Wowza.
Anyway, while accepting her award, she made some pretty not-so-subtle references to the Spice Girls, and I am living for her speech.
While on stage, she told the audience why she was reading her acceptance speech from a note card. "I hung up my microphone some time ago and I get scared when I get up on stage and see a mic," Beckham said, adding that "If you come from London, you've gotta give them what they want, what they really, really want."
So, look: While the latter quote is all about spreading Girl Power, the former might be taken as some subtle shade — or it could simply be Beckham's reasoning for not going on tour with her former crew.
In case you forgot, Baby Spice, Ginger Spice, Scary Spice, and Sporty Spice announced a reunion tour on Monday, Nov. 5 — with Posh Spice being nowhere in sight. After the tour announcement (that was sent in an epic mock Spice News bulletin video), all eyes were on Beckham, naturally, because she was notably absent:
Almost as quickly as the video was released, Victoria Beckham took to Instagram to comment on her time with the Spice Girls, sharing a photo of all five girls with a caption that read:
Today marks a special day for the girls as they announce the first tour dates since we performed together in 2012! I won't be joining my girls on stage again but being in the Spice Girls was a hugely important part of my life and I wish them so much love and fun as they go back on tour next year. I know they will put on an amazing show and the fantastic fans past and present are going to have a wonderful time! X vb #spicegirls #friendshipneverends
While friendship never ends, it looks like Posh Spice's time on stage might be on hold for now.