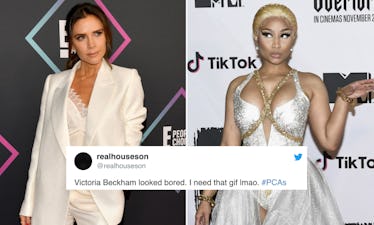 People Think Victoria Beckham Threw Shade At Nicki Minaj At The People's Choice Awards
Matt Winkelmeyer & Carlos Alvarez/Getty Images Entertainment/Getty Images
Well, well, well. If it isn't Victoria Beckham looking mysterious (and somewhat bored). Fans think the fashion icon might have been throwing shade a Nicki Minaj during her opening number at the 2018 People's Choice Awards because she was spotted looking less than thrilled during the show. Victoria Beckham's reaction to Nicki Minaj's People's Choice Awards performance is a mood, you guys. It's totally possible cameras just caught her during a particularly, uh, quiet moment? But, still.
Minaj kicked off the show in the best way she knows how — in a neon pink wig and leather skirt while rapping lyrical fire. While everyone else was getting their groove on, Beckham was sitting at her table totally checked out, practically metaphorically scrolling through her Instagram feed. Minaj was there to rock viewers' socks off and Beckham was there as the 2018 Fashion Icon award winner. However, lots of fans are making the same joke, essentially saying Victoria Beckham is too rich, famous, fashionable, etc. etc. to be at the People's Choice Awards.
I mean... maybe.
We are talking about someone who is as close to being British royalty as humanly possible without actually being related to anyone in the palace. Admittedly, the People's Choice Awards venue is just a smidgen different than St. George's Chapel where Beckham's friends the Duke and Duchess of Sussex, Prince Harry and Meghan Markle, got married.
Whether or not Beckham was actually so over the show before it even really started, fans weighed in on her perceived attitude anyway.
To be fair, only a half hour or so later Beckham had to take the stage to accept her Fashion Icon award. While she was giving her speech, she noticeably seemed nervous and even admitted to feeling a bit wobbly back in front of a microphone. She explained, "I hung up my microphone some time ago and I get scared when I get up on stage and see a mic." Obviously, she's referencing the good ol' days with the Spice Girls, who just announced their reunion tour. Maybe you've heard, but Posh Spice will not be a part of it. No hard feelings, though. She's simply busy slaying the fashion game.
When Sporty Spice, Baby Spice, Ginger Spice, and Scary Spice shared the amazing news, Beckham jumped on Instagram to show her support. She shared a photo of her old bandmates with the caption:
Today marks a special day for the girls as they announce the first tour dates since we performed together in 2012! I won't be joining my girls on stage again but being in the Spice Girls was a hugely important part of my life and I wish them so much love and fun as they go back on tour next year. I know they will put on an amazing show and the fantastic fans past and present are going to have a wonderful time! X vb #spicegirls#friendshipneverends
Beckham also honored her old gig with a shoutout during her PCAs acceptance speech, quipping, "Gotta give them what they want, what they really, really want."
Somewhere, I can hear Nicki Minaj rolling her eyes.