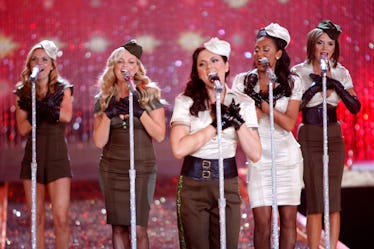 The Spice Girls Are Going On A Summer Reunion Tour, But Will Victoria Beckham Participate?
Mark Mainz/Getty Images Entertainment/Getty Images
They are finally giving us what we want, what we really, really want. Well, sort of. After years of playing the whole will they or won't they game, the Spice Girls have announced that they are officially reuniting in order to hit the stage for a 12-date stadium tour in 2019. Which means it's time to zig-a-zig-ah fam! But is Victoria Beckham part of the Spice Girls reunion tour? You probably won't be all that surprised to learn that the woman formerly known as Posh Spice has decided to take a pass.
Such a bummer!
But you should be so, so excited anyway, since the four other members of the band — Mel B (Scary Spice), Emma Bunton (Baby Spice), Mel C (Sporty Spice), and Geri Halliwell (Ginger Spice) —  secretly filmed a video together. It will go live at 3:00 pm on Nov. 5 in order to launch their huge summer stadium tour, and OMG even without Becks on board, the fact that there's going to be a Spice Girls reunion at all is still the best news ever.
I mean, it's actually the perfect time for this comeback, considering that anything leopard print is so hot right now, you know? I just hope I still have my red platform boots stashed in the back of my closet somewhere.
Rumors of the reunion first started flying back in February, after Beckham posted a picture on Instagram of all five girls hanging out at Halliwell's home.
S'cute, right?
"Love my girls!!!" she captioned the shot. "So many kisses!!! X Exciting x #friendshipneverends #girlpower."
Then Mel B rolled up to The Late Late Show With James Corden on Sept. 13 and verified all the speculation. "100 percent, it's happening," she told the host. "We're going to be going on tour."
YASSSSS.
But now, two months later, we have Mel B confirming the news that while the tour is happening, Beckham won't actually be involved.
"It's just the four of us that are fully confirmed," she explained while serving as a panelist on ITV's Loose Women. "But Vic might join us at some point. I hope so. It would be a shame if she didn't."
A damn shame.
Of course, it probably didn't help that Mel B dissed Beckham in a pretty major way by dressing up as her bandmate for Heidi Klum's annual Halloween party. Not only did she tape a picture of Posh to her face, but she also held up a handmade sign that read: "No I am not going on tour." Her friend took on David Beckham duties, complete with a soccer jersey and his own sign which read, "Please, please, please do it for the Spice Girls fans."
So much shade, Scary!
I really hope Posh took the whole thing in stride and does plan to join the other four Spices on tour at some point, you know? In the meantime, stay tuned for the official tour dates and locations to be announced via that secret video, which will go live on the official Spice Girls Twitter account at 3:00 p.m. on Nov. 5.