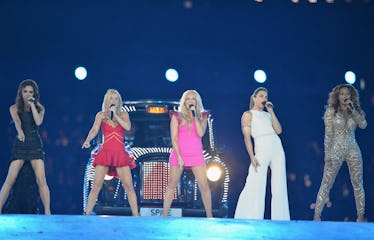 A Spice Girls Reunion Tour Might FINALLY Happen, So Prepare To Spice Up Your Life
Jeff J Mitchell/Getty Images Sport/Getty Images
People of the world, get ready to spice up your life! A Spice Girls reunion tour is reportedly finally happening — at least that's what Mel "Scary Spice" B is saying. Elite Daily reached out representatives for all five Spice Girls for comment on the reported tour, but did not receive a reply by the time of publication.
Mel B shared the news on Thursday, Sept. 13 during an interview on The Late Late Show. She told host James Corden, "100 percent, it's happening. We're going to be going on tour." Best. News. Ever.
But there's, of course, a cloud of uncertainty as to whether or not Victoria Beckham — AKA Posh Spice — will be returning for their reported reunion, as she's categorically ruled herself out ­of performing in the past. Mel B continued:
Us four [aside from Posh] for sure. We'll see about [Posh], but us four are definitely going to be on tour. She might join us for a few [shows]. She better.
While it's unclear if Beckham will return to the stage for the reported tour, Mel B seemed open to the idea of using celebrity guests in place of her. Elite Daily reached out to Beckham's representation for comment on the possibility of her joining the reported tour but did not hear back at the time of publication. In the event that all of the girls opt for that idea, Mel B shared that her No. 1 choice would be Katy Perry (*swoons*) and TBH, I think I can get down with that.
According to Rolling Stone, all five Spice Girls haven't performed together since they took the stage during the opening ceremonies of the London Olympics in 2012. Since then, Beckham has routinely expressed her reluctance to join the group for a reunion tour.
"I'm not going on tour," she explained to Vogue back in February. While she admitted the tour was a "positive" thing, Beckham ultimately suggested that her days as a Spice are over. She added:
I think there's so much that the brand can do, and it's such a positive message for young kids. What does that look like in the future? It's not me in a cat-suit.
OK, so there's a real possibility that Beckham hasn't changed her mind in the few months since her comments. But at least the legendary '90s group is reportedly moving forward and gearing up to put on a show for the sake of their fans. According to The Sun, the reunion tour will kick off in 2019 and will feature 13 dates across the United Kingdom, which includes three nights at Wembley stadium. Elite Daily reached out to Melanie Brown's representation for confirmed tour dates but did not hear back at the time of publication.
"After much to'ing and fro'ing, a deal has been signed, and an official announcement will be made soon," a source told the outlet back in August 2017. "The girls can't wait to go back on tour, perform to the fans and sing some of their greatest hits." And I can't wait to slam it to the left and shake it to the right, either.
In the meantime, stay tuned, folks. If the Spice Girls are finally about to give us what we really, really want, you won't want to miss it. Even if Beckham does.