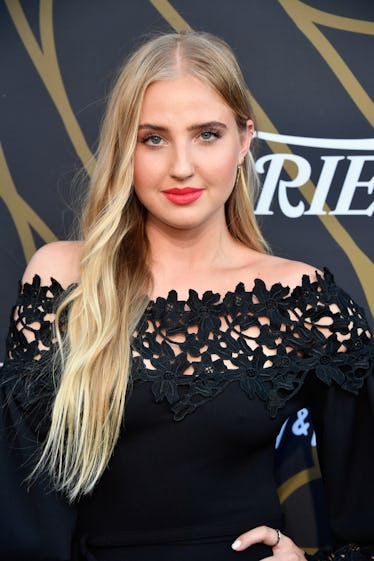 Veronica Dunne Reveals Her Beauty Idols & Her Reason Why Is Inspiring — EXCLUSIVE
Frazer Harrison/Getty Images Entertainment/Getty Images
If someone were to ask me who my beauty idol is, I'd probably be that noob who says "my mom," only because I truly think she's the most beautiful woman in the world. (I love you, mom. Sorry not sorry, everyone else.) But aside from my mom, I'd say I admire anyone who's not afraid to confidently own whatever vibe they love. And it turns out, celebrities feel the same way when it comes to their beauty idols. (Stars, they're just like us!) American actress Veronica Dunne revealed her own beauty idols, and when you get a load of who they are, you'll realize you love 'em for the same reasons she does.
Dunne, whom you may recognize from the Disney Channel show K.C. Undercover where she crushes alongside Zendaya, tells Elite Daily that in terms of beauty, Jennifer Lawrence and Blake Lively are the idols who make her say, "YAS QUEEN." "I love how they shine from within and have a really natural look," she says. Um, hard same, girl. Don't get me wrong: I love who I am, but if I could experience a rebirth as a mythical combo of Jennifer Lawrence and Blake Lively, I'd do it in a heartbeat.
It makes sense that Dunne admires people who she believes "shine from within," given that that's exactly the philosophy she strives to live by. In terms of the best beauty advice she's ever been given, Dunne says being "who you truly are" and refusing to "hide behind something" are of the utmost importance. "Only use makeup to accentuate what's already there and shine from within," she continues. "There's nothing more beautiful than kindness and a true soul." Amen, sister.
While Dunne does have idols from whom she takes inspiration, that doesn't mean she doesn't explore and express her own style. What is that everyday style, exactly? "Day to day, it truly changes," she says. "Definitely some boho-chic vibes, but I always like to stay comfy and true to whatever mood I'm in."
Just last weekend, Dunne let her personal beauty and fashion style shine while at the 2018 Coachella Valley Music and Arts Festival. While she says her personal beauty and fashion preferences don't drastically differ from what she might wear to a music festival like Coachella, she does say that "at Coachella, it's more heightened and I enjoy taking risks."
She also explains that prior to Coachella this year, she found it super easy for her and her friends to bounce ideas for ~lewks~ back and forth using an app called Crunchet, which allows you and your friends to create "stories," from videos, photos, other social media posts — anything, basically. "What's really cool and fun about Crunchet is that I can simply add my photos and videos, YouTube videos I've discovered, links, and even a Spotify playlist or song I'm vibing that day that inspired my look all on one post," she says. "And the best part is my friends can add to my crunch to give me feedback on my look and other ideas and links to buy the look I'm going for. My vibe and look changes day to day, and Crunchet gives me more depth to express how I feel and how it is reflected in my look."
If you're looking for some beauty inspiration of your own à la Dunne's beauty vibes, she also dished on her five must-have beauty products that you'll always find in her bag. The first of her favs is Anastasia Beverly Hill's Clear Brow Gel ($22, anastasiabeverlyhills.com), which keep your brows in place all day, while giving them a natural, polished look. Next, you'll find her applying Essential Faith Oil ($65, essentialfaith.com) for a simple, fresh scent that nicely combines with your body's natural scent. She also keeps her lips hydrated and protected from the sun with Palmer's Original Ultra Moisturizing Lip Balm ($2, palmers.com). And finally, she keeps her face feeling fresh with Mario Badescu Facial Spray with Aloe, Herbs and Rosewater ($7, ulta.com) and her hands soft and sanitized with EO Lavender Hand Sanitizer Spray ($4.24, vitacost.com)
With festival season in full force, you might feel hard pressed to rock every new trend you see, even if it doesn't feel very "you." Of course, you should always feel confident in experimenting and confidently owning whatever style you want to, but maybe take a page out of Dunne's book by always staying true to your mood and shining from within.