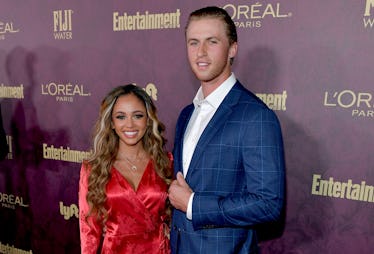 Wow, Vanessa Morgan & Michael Kopech's Relationship Timeline Is A Total Whirlwind
Neilson Barnard/Getty Images Entertainment/Getty Images
When the news broke that one pink-haired Southside Serpe``nt was dating (and later, marrying) a Major League Baseball player, it's safe to say that many stans were present and accounted for. Not only are Vanessa Morgan and Michael Kopech unanimously beautiful together, but they also seemed to have a rock solid bond. Needless to say, baseball fans and Riverdale fans alike have had a lot to take in in recent weeks with both a pregnancy announcement and a divorce filing. Yup, Vanessa Morgan and Michael Kopech's relationship timeline is a total whirlwind, and I'm going to take you through every single step. (Elite Daily reached out to representatives for both stars; Morgan's rep declined to comment, and Kopech's did not respond in time for publication).
Odds are, the big question on your mind (and admittedly mine as well) is this: How does a couple go from falling "intensely, passionately...recklessly in love" (Kopech's words) to filing for divorce in just one year? The couple has shared numerous reassuring glimpses into their relationship over the years — and all signs pointed to sheer bliss. In the last eight months alone, Morgan has posted pics of them snuggled up in a canoe, entangled in each other's arms, and excitedly celebrating their nuptials — all accompanied by captions that suggest the couple was happy and hopelessly in love.
Given that neither Morgan nor Kopech has publicly commented on their split, fans are still scratching their heads over what went wrong. Alas, here's a highlight reel from their time together that may provide some helpful clues about their relationship.