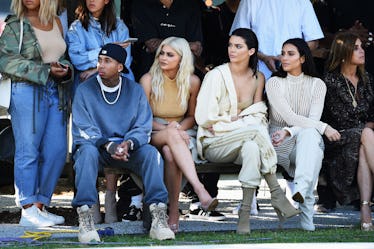 Tyga Had An Unexpected Run-In With Kim Kardashian & Kris Jenner At Beyoncé & JAY-Z's Concert
Jamie McCarthy/Getty Images Entertainment/Getty Images
It could have been super awkward but, instead, it looks like everything was mad chill and civil when the KarJenner crew bumped into one of Kylie Jenner's exes at the Rose Bowl in Pasadena, California on Sept. 23. Kourtney, Kim, Kris, and family friend Larsa Pippen were all out enjoying the On The Run II show when the run-in took place, and things definitely could have taken a weird turn. But it appears that Tyga and the Kardashians' reunion at Beyonce and JAY-Z's concert was surprisingly happy and low key, and like, leave it to Queen Bey to bring everybody together in peace. Maybe she'd like to come over to my house for Thanksgiving this year? Just a thought.
Anyway, in pics obtained by TMZ, Kim and Kris both look surprised, but also kind of excited, to bump into Tyga in the pit in front of the stage. Mama Kris was even snapped throwing her arms around her daughter's former boyfriend in a big ol' bear hug, which is kind of aggressive IMHO. Though I guess I shouldn't really be all that surprised by the over-friendly greeting, considering the whole family is still super tight with Kourtney's ex Scott Disick. I mean, it sometimes seems like they like him better than Kourtney, you know?
According to a source, Kim hugged it out with Tyga first, as soon as she noticed they were standing near each other. "Kris looked especially excited to see him and also went in for a hug," the source told E!, adding that they all stood in the same area briefly before Kim grabbed her mom and Larsa to head closer to the stage.
So yeah, the KarJenners may have 99 problems, but I'm pretty sure being friends with ex-boyfriends ain't one. And Tyga looked pretty comfortable keeping up with the Kardashians, too. Although, that's not so surprising, either, given the "Rack City" rapper's recent comments about his relationship with the Lip Kit mogul on Nicki Minaj's Queen Radio show on Apple Music's Beats 1. Tyga said he was totally fine with the way everything went down, and claimed he's got zero bad blood with Kylie's baby daddy Travis Scott.
"I'm not a bitter person," he explained. "If we break up, we break up. We had a good time and kept moving, and we went our separate ways and we're both doing good."
If you'll recall, Tyga and Kylie dated on and off for more than two years before calling it quits in 2017. A few months later, the makeup queen was dating Travis, and the couple welcomed their first child together, daughter Stormi Webster, in February.
But the youngest KarJenner isn't the only one who is thriving. In fact, Tyga wasn't at the Beyonce and JAY-Z concert just to take in the show. He actually performed in it earlier in the night during DJ Khaled's opening set, and later shared a clip from the stage on his Instagram feed:
Looks like all's well that end's well. And thanks for the reunion we never knew we needed, Bey and Jay!