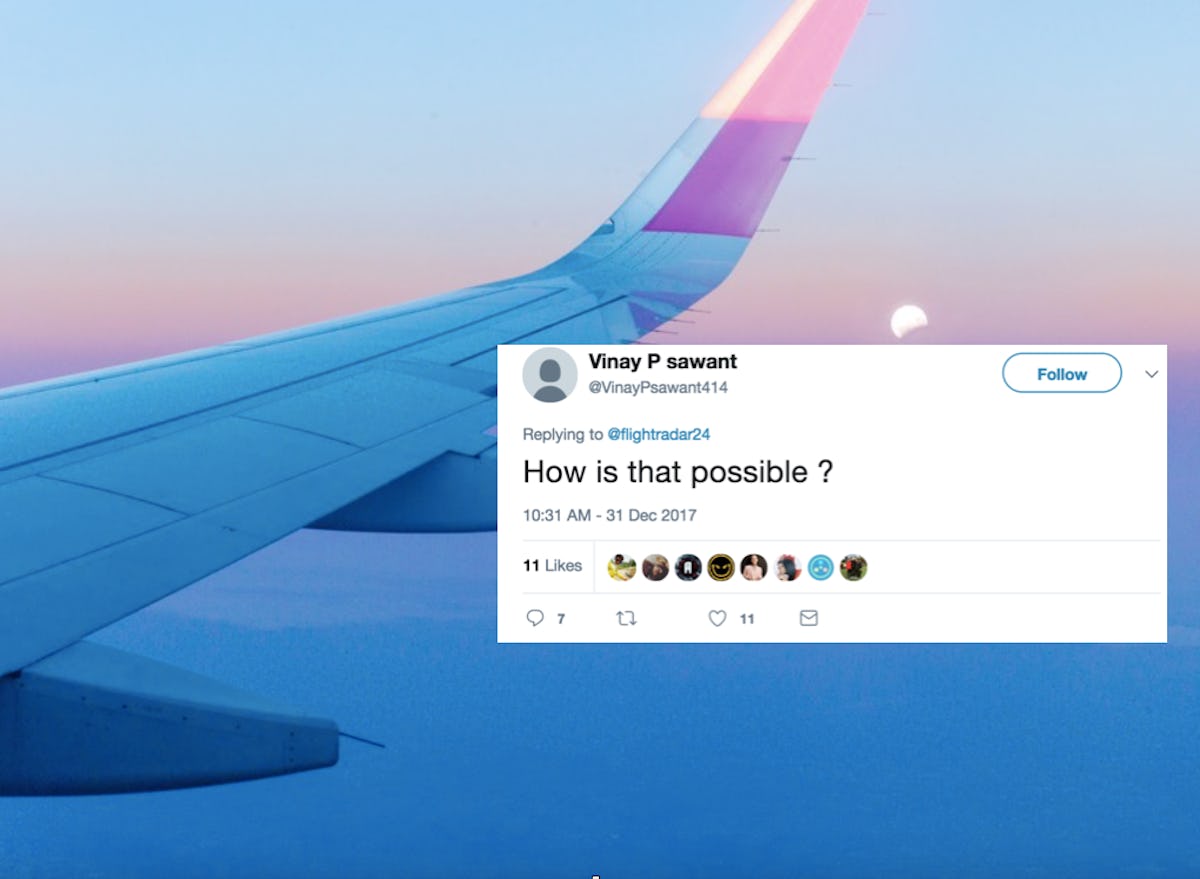 This Flight Just Proved Time Travel Is Real & People's Minds Are Officially Blown
If you thought we were living in the future when Apple revealed the iPhone X's facial recognition, hold on to your hats. We're only two days into 2018, but passengers flying from Auckland, New Zealand to Honolulu, Hawaii are lightyears ahead of the rest of us, as they just proved time travel is real — well, sort of. Let's just say these tweets about the New Year's Eve flight from New Zealand to Hawaii are going to blow your mind.
According to Mashable, passengers on Hawaiian Airlines Flight HA446 took off in New Zealand in 2018, and landed in Hawaii in 2017. The flight left New Zealand at 12:05 a.m. on Jan. 1 — and because it crossed multiple time zones, it landed in Hawaii at 9:45 a.m. on Dec. 31. There is a 23-hour time difference between Auckland and Honolulu.
The flight was supposed to leave earlier in the evening, which would have meant leaving in 2017 — but thanks to delays, the flight left right after ringing in the new year. Best flight delay ever? Probably.
FlightRadar24 reports that a number of "time travel" flights took place this year. (Or is it last year? I'm confusing myself.) The popular flight tracking site noted that six flights from Taipei to Canada and the United States also time traveled through the air. The flights took off in 2018 but landed in 2017.
So how did this happen? Unfortunately, Marty McFly and Doc were not involved. The main reason for the occurrence is the International Date Line. You probably learned about it in school, but if you're like me, you probably forgot about it somewhere down the line. I'm sorry, science teachers!
What is it, exactly? According to Interesting Engineering, the International Date Line is "an imaginary—yet fixed—date line that extends North-to-South between the two poles and serves the purpose of dividing the world by calendar days." The line essentially marks the transition from one day to the next. These time traveling flights all crossed over the International Date Line, which is why passengers got to turn back time. Cher is definitely jealous.
The phenomenon is a bit mind-blowing, and Twitter reacted accordingly.
And of course, there were a ton of Back To The Future references, because at the end of the day, we're all a bunch of nerds.
Lots of people have included traveling more in their New Year's resolutions. For those with a little bit of wanderlust — who are okay with not traveling back in time — there are plenty of ways to leave on a jet plane this year... even on a budget. Airlines are offering some pretty sweet deals right now, so figure out where you want to go and then snag those tickets!
If trying to get over to Europe and country hop, Norwegian Airlines has you covered. The company is offering $99 one-way flights to a number of cities in Europe between now and Jan. 4. For the less mathematically inclined, that means a $200 round-trip flight to Europe... aka, a fraction of the regular cost... aka, Stockholm, here I come.
If you're trying to see something a bit more unique and less Instagrammed, some airlines are offering flights to China for $500 or less, including United Airlines, American Airlines, Hainan Airlines, Alaska Airlines, and Air Canada. The cheap flights leave from different cities on both the East Coast and the West Coast. The dates available for this unbelievable price are between January and April, so you can do a winter getaway or a spring vacay. They're so cheap, you might want to do both.
If you're trying to stay domestic, but still see something awesome, why not fly to Alaska and see the Northern Lights? Flights to The Last Frontier are pretty cheap right now, so act fast.
Check out the entire Gen Why series and other videos on Facebook and the Bustle app across Apple TV, Roku, and Amazon Fire TV.