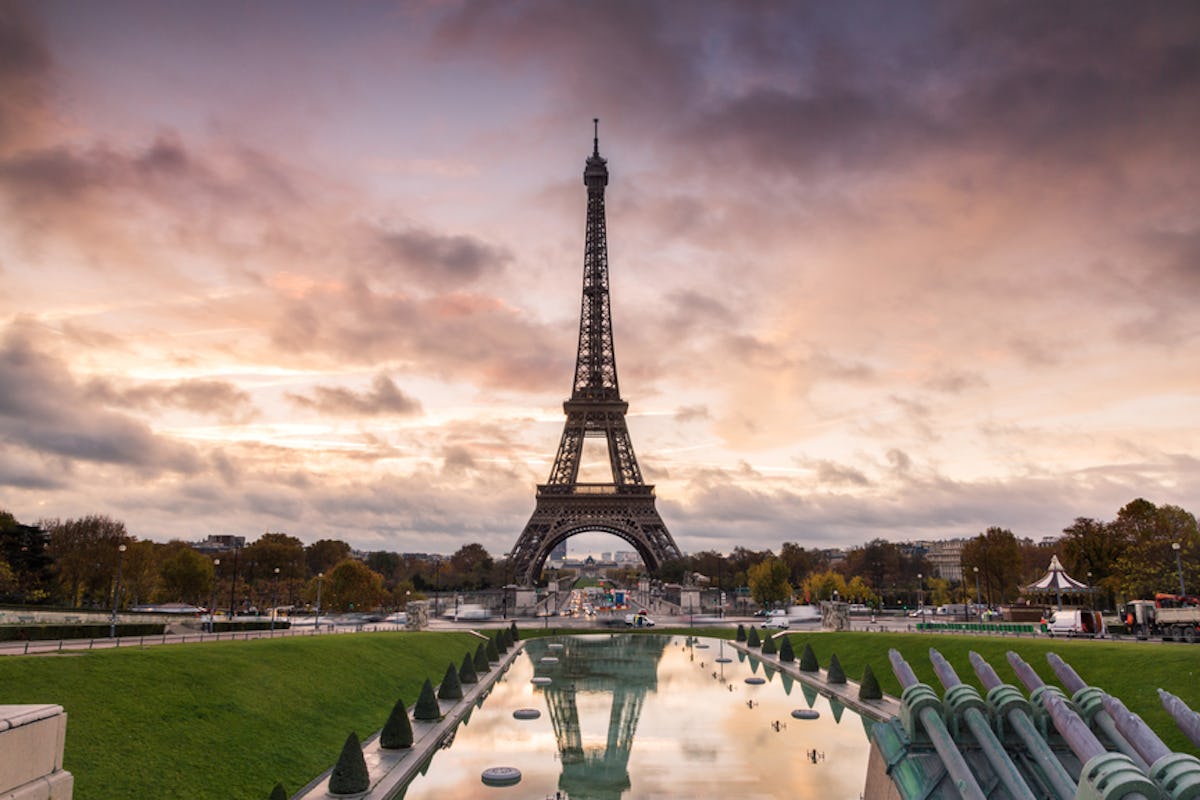 This Airline's New Year's Sale Has $99 Flights To Europe, So Cheers To Traveling
If everyone's holiday travel photos have you ready to jet set the heck out of wherever you are, you're not alone. I'm definitely feeling the itch to travel somewhere new, and I think travel companies are onto us. Norwegian's New Year's Sale is offering $99 flights to Europe, so you can make those wanderlust-filled daydreams a reality next year.
According to Thrillist, Norwegian is currently offering $99 one-way flights to Europe. If you're not planning on staying there forever (although it may seem tempting after the year we've had), a one-way flight may not sound ideal. But a $99 one-way flight means a round-trip flight for around around $200. Even with taxes and fees, you can book a flight for as little as $220, which is a steal for international travel.
The airline flies out of Austin, Boston, Chicago, Denver, Hartford, Las Vegas, Los Angeles, Miami, New York, Oakland, Orlando, and Seattle, so travelers all over the country are sure to take advantage of this amazing deal. Each departure city has different destinations available, including Amsterdam, Barcelona, Dublin, London, Milan, Paris, Rome, and Stockholm, among others. So whether you're dreaming of La Sagrada Família or the French Riviera, Norwegian has got you covered.
Unfortunately, with flight deals like these, airlines will sometimes get you with added expenses, and this is true of Norwegian. The $99 fee does not include checked bags, nor does it include in-flight meals. So if you're an over-packer (guilty) and snacks won't be enough to get you through an international flight (double guilty), you might want to consider upgrading from the LowFare option to the LowFare+ option. Thrillist reports that this adds $70 each way, but saves $70 as opposed to adding these options to the LowFare price. But if you're a minimalist and can survive on snacks until you reach the fine European cuisine, then enjoy your $220 flight!
The dates for the flights range between January and May, so you can decide if you want to see a European winter wonderland or soak up the Tuscan sun. If you're thinking of buying a ticket, keep in mind that the sale only lasts until Jan. 4, 2018 at 11:59 p.m. So run — don't walk — to book that flight!
Norwegian isn't the only airline spoiling travelers with end-of-year sales. A number of airlines, including United, Americans, Hainan, Alaska, and Air Canada, are currently offering flights to China for $500 or less for dates between January and April of 2018. Plus, China is now allowing visitors to stay in Beijing — as well as Tianjin and Hebei — for up to six days without a visa, which means you can travel abroad for a solid amount of time without doing hours worth of paperwork. So if you're looking to go somewhere that you haven't already seen on your Insta feed, definitely consider looking into those offers.
If you're down to stay within the United States but still see something totally unique, flights to Alaska are pretty freaking cheap right now, too. Flights to Anchorage, Alaska from the West Coast currently range from $320 to $420, while flights from New York are closer to $500. Either way, this is a great deal, and there's the added bonus of seeing the Northern Lights. According to Travel Weekly, Fairbanks — which is just a car or bus ride away from Anchorage — is the ideal location for seeing the Northern Lights, and prime viewing season lasts from mid-August to mid-April. In other words, we're smack in the middle of it right now. In other words, what are you still doing here?
If I didn't have the travel bug before, it's definitely buzzing in my ear now.
Check out the entire Gen Why series and other videos on Facebook and the Bustle app across Apple TV, Roku, and Amazon Fire TV.