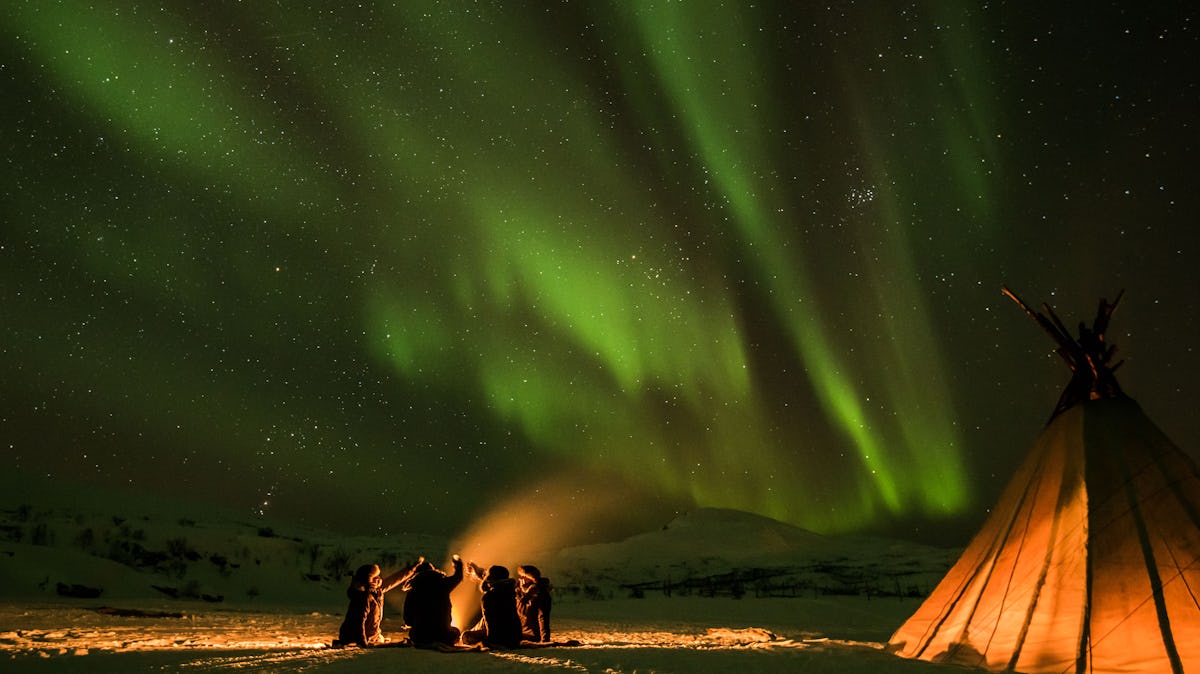 Alaska Has The Best View Of The Northern Lights & 2018 Flights Are Seriously Cheap
Handout/Getty Images Entertainment/Getty Images
No matter where you are right now, it's probably really freaking cold. You might be wishing that you were in a tropical paradise with a piña colada in one hand and a paperback book in the other, lying on a big, comfy beach chair. However, while a beach vacation might sound appealing right now, January is also a great time to see the Northern Lights — and I've honestly wanted to see them my entire life. If this is along the lines of something you might be interested in, here are some cheap flights to Alaska so you can see them, too. But since flights are always changing, it's best to act quickly.
According to Travel Weekly, Fairbanks is the ideal location to view the Northern Lights. Their viewing season is long, stretching from mid-August to mid-April, and it's just under a zone with super concentrated aurora borealis activity, called the "Auroral Oval." Fairbanks tends to also have nicer weather than other Alaska locations, which makes it an even more ideal viewing destination.
Flights to Anchorage, Alaska from the West Coast currently range from $320 to $420. Flights from New York City are a little over $500. However, wherever you're departing from, make sure to checkout Google Flights. Prices and departure points vary, and they change very quickly. To get from Anchorage to Fairbanks, travelers can rent a car or take a bus. So if you've been saving for a vacation and wish to see the Northern Lights, now's your chance.
The Northern Lights in Alaska are truly a once-in-a-lifetime opportunity, so cheap flights are definitely a blessing. Explore Fairbanks' director of communications, Amy Reed Geiger, told Travel Weekly,
It's not really a phenomenon that you can describe easily. The aurora show is different every single time. Lights might be fast or slow or bright green or red. The way it moves, the way it looks, the way it appears in different places in the sky you really have to see it to understand.
Not entirely sure when to go for the best possible viewing? Make sure to check out an aurora borealis forecast. They can determine where and when activity activity is high and low, so you know the ideal time and place for maximum aurora borealis viewing pleasure.
If you're feeling super romantic and if you were already planning on proposing to your significant other sometime soon, there have been some pretty amazing proposals under the Northern Lights. Dale Sharpe took his longtime girlfriend, Karlie, to the Arctic Circle for the best possible proposal ever. He pretended like they were going to take a selfie, and instead, got down on one knee. Obviously they got the most amazing engagement photos, and she totally said yes. So ideal.
Fairbanks also offers dog sled tours if you're feeling especially mush-y (get it?). Since the days are only about five hours long right now, sledding through a dark trail in the cool weather with a troop of jingling dogs is honestly the dream. They also offer guided ice fishing adventures, complete with a heated cabin and all the equipment you might need. Pretty sweet, right?
So if you were thinking about going on a cruise to forget about the nasty cold weather, forget it — because flights to Alaska are at seriously low prices right now. And if you weren't entirely sure if Alaska sounded like the destination of your dreams, it totally should, because the Northern Lights are unlike anything else in the world. Whether you're going by yourself, with a friend, or a with significant other, it's time to break out your Jon Snow-style coats and that super intense scarf you thought you'd never wear — because Fairbanks, Alaska is seriously where the winter activities are at.
Check out the entire Gen Why series and other videos on Facebook and the Bustle app across Apple TV, Roku, and Amazon Fire TV.