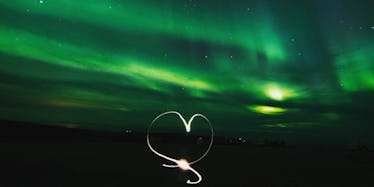 Guy Proposes To GF Under The Colorful Northern Lights And The Pics Are Magical
Luca Pierro
If you're planning on proposing to your lover anytime soon, you might want to wait a little while because it's going to be hard to follow an act like this.
Dale Sharpe might as well take home the gold for "Prettiest Proposal EVER" after he got down on one knee underneath the mesmerizing beauty of the Northern Lights on Sunday in the heart of the Arctic Circle.
Take notes, guys! Your boy Dale just set the bar pretty damn high.
Before I show you the photo that captures the breathtaking moment when the proposal took place, allow me to give you some background on the spouses-to-be.
For starters, they're both professional landscape photographers who run the company DK Photography, which explains how they were able to get the perfect shot underneath the technicolor sky.
Dale's been planning the unique proposal for a few years now, and explained the anticipation behind the big night in the Facebook status attached to his photo.
He wrote,
It's taken a few years to plan but I (Dale) always had this moment in mind & it seemed fitting as we are both landscape photographers who share a passion for photographing the aurora. Originally I was going to propose in Iceland last year but unfortunately Karlie decided to discard my secretly stashed ring (yes, that actually happened lol, we were trying to cut weight on a connecting flight from the Faroe Islands).
Well, it looks like the proposal was well worth the wait because the picture is absolutely stunning.
You win, Dale. YOU WIN.
Apparently, Dale tricked his girlfriend into thinking they were taking a selfie before proposing underneath the blue and green swirls in the sky.
He wrote,
Fortunately though my plan worked & tonight the aurora was firing in one of the most incredible displays of color we have ever seen. I tricked Karlie into believing we were shooting a selfie & used a torch to light us up for the image.
Unsurprisingly, Karlie said yes. Congrats, you two!
Dale admitted the couple doesn't have any of their own shots hanging on the walls inside their house, but said they'll probably make an exception for this one.
I definitely don't blame them.
Citations: This marriage proposal raises the bar for marriage proposals everywhere (Mashable)