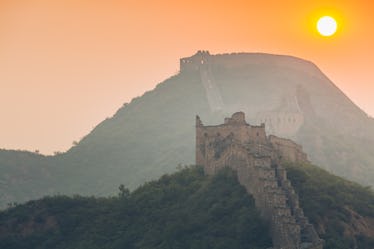 Flights To China Are Super Cheap Right Now & Your Instagrams Will Be Next-Level
Seeing everyone's holiday vacation photos can definitely give you the travel bug. When your Instagram is full of beautiful scenery and geotags that you have trouble pronouncing, how could you not want to take a trip of your own? Thankfully, there are some amazing flight deals out there right now to a number of exciting destinations. But if you're feeling a little "blah" about trips to Europe, here's how to get cheap flights to China in 2018 and totally up your Insta game.
According to Travel + Leisure, there are several flight deals available from a number of cities to Beijing between January and April 2018 — starting as low as $380 for a round trip. There are also a number of round-trip flights out of the United States to China for $500 or less, as reported by travel blog God Save The Points. That's right: If you have $500 and the itch to get away, you've got a picturesque trip to China to plan. So whether you want to take a winter vacation or a spring break trip, a bunch of airlines have you covered, including United Airlines, American Airlines, Hainan Airlines, Alaska Airlines, and Air Canada.
Of course, the prices will depend on where you're flying out of — but TBH, they're all pretty amazing. As Travel + Leisure reports, West Coast flyers can get to Beijing from Los Angeles for as little as $380 round-trip. Flights a little further north in San Francisco and Seattle start at around $430 round-trip — and further south, flights out of San Diego start at $453 round-trip. If you're in the Midwest, you can get a flight from Chicago for around $499; same goes for travelers leaving from Boston. New Yorkers can get there and back for about $419.
Oh, and another bonus: China is now allowing visitors to stay in Beijing, as well as Tianjin and Hebei, for up to six days without a visa. So if you're dying to go but panicking about all of the paperwork you'd have to do to take advantage of these deals, take a deep breath and book that flight!
In the United States, we tend to think of places like Barcelona and Paris, or different parts of the Caribbean as top travel destinations. But Beijing is home to some beautiful landmarks, delicious cuisine, and exciting events that are perfect for any Insta traveler, passionate photographer, or just for someone looking for a new adventure.
The Forbidden City
Probably the most well-known attraction is the Forbidden City, which was once home to China's ruling class. The landmark is several thousand feet long and wide, and surrounded by moats on all four sides. It's one of the most visited locations in China and will definitely make an Insta post fit for a king (or queen)!
Dragon Escalator
For those in search of a bit of a thrill, there's the Dragon Escalator. It's not quite a theme park ride, but it is the longest outdoor escalator in the world. It leads to China's largest dam, The Three Gorges Dam. Oh, and did I mention that it literally looks like a dragon? The adventure doesn't end there. Once you get to the top of the dam, you can take a ride in a cable car or take a boat ride in the artificial lake. Definitely a cool experience to capture for the 'gram.
798 Art District
For those with a serious artsy side, check out the 798 Art District. Full of ironic contemporary art, the 798 is built in a Cultural Revolution-era warehouse district, where Maoist slogans are still displayed in some of the spaces. The area is home to a number of galleries, museums, shops, and cafés. Those who appreciate the artistic styles of other cultures will definitely drool over the exhibits, the architecture, and the artistic reflection on the country's history.
Whatever your particular aesthetic interests are, China is an awesome place to visit. These flight deals are the perfect opportunity to get away and see a whole different part of the world. Watch out, Instagram!
Check out the entire Gen Why series and other videos on Facebook and the Bustle app across Apple TV, Roku, and Amazon Fire TV.