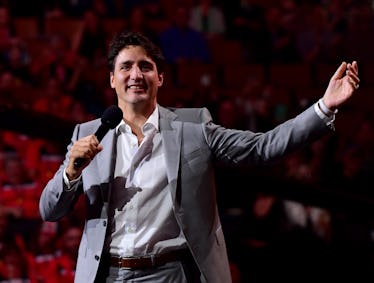 This Justin Trudeau "Boyfriend" Calendar Is Swoon-Worthy & Twitter's Extra Thirsty
Harry How/Getty Images Entertainment/Getty Images
You have to kick the new year off on the right foot, and there's no better way to get positive vibes than with a different photo of Prime Minister Justin Trudeau each month. Forget the fireman calendar — 2018 calls for your hunky, hunky Canadian boyfriend. Tweets about the Justin Trudeau boyfriend calendar prove that everyone is really anxious for 2018, and understandably so.
The publishing gift from the gods is courtesy of Universe Calendars and Rizzoli New York. Obviously, if discovered hiding out on the shelves of your local bookstore, this item is a must-buy. It does make for the perfect Secret Santa gift, so you really have to excuse to pass it up.
With a nod to Avenue Q — everyone's favorite off-color play — the product description on Amazon hints at love up north. It reads,
I have a new boyfriend. No, you've never met him. He lives in Canada. The Justin Trudeau, My Canadian Boyfriend 2018 Wall Calendar is a year-long celebration of dynamic, smart, compassionate, and sometimes sassy Canadian Prime Minister Justin Trudeau.
It continues,
Featuring sweetly off-kilter but well-meaning commentary about his views from his sparkling blue eyes on everything from love, family and of course global affairs and economic growth, it is a true celebration of the man, the myth, and the meme that is Justin Trudeau.
Well you're certainly convinced about making a purchase now, aren't you? Those who get a copy of the calendar are in for some modern-day pics as well as some throwbacks (which feature Trudeau's long hair). It's quite inclusive and certainly provides an interesting way to kickstart each month. Happy New Year, indeed.
Of course, once Twitter caught wind of this swoon-worthy product, it had a field day.
This isn't the first time the PM's good looks made their way onto products. Matt Harris, on Twitter as @mattfharris, took to the social media site to provide a glimpse at a shirt that will inevitably sell out once people catch wind of its existence. It features a shirtless Justin Trudeau in a rural background with a bear and moose above the word "Canada" with a badass red font. It's certainly... something. The shirt is available at headlineshirts.net and will probably accompany the calendar well when you wrap your Secret Santa present (no need to thank me for such good gift-giving tips).
These options are a heck of a lot better than that huge pile of butter (yes, you read that correctly: butter). An unnamed artist created a butter statue of Justin Trudeau or CNE's butter sculpting exhibition. It recreates his now-famous panda cub unveiling at the Toronto Zoo in March 2016. He's even a muse for artists. Talk about buttering up the PM.
Given the way people stare at Trudeau, is there any surprise he found his way onto a few items (and butter)? Obviously not. Just take a look at the way our favorite complicit adviser Ivanka Trump eyes the PM. Wow, that must be some interesting meeting, huh?
The Duchess of Cambridge has also fallen under Trudeau's spell... with her husband standing a mere few inches away. Eh, it's OK Kate — you're not the only one. Just take a look at that smirk. Kate cannot contain herself.
Actresses are taught to keep their composure, but apparently, JT's looks were too much for Emma Watson to bear. She, too, gave Trudeau the look. Check out the way she's zoning in on him. Prime Minister Steal Yo Girl, am I right?
So if you're still in need of stocking up on holiday presents, you're welcome. Canada will be proud.
Check out the entire Gen Why series and other videos on Facebook and the Bustle app across Apple TV, Roku, and Amazon Fire TV.