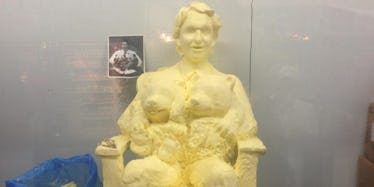 This Butter Statue Of Justin Trudeau Is Basically Everything We Love About Life
Tara Deschamps
Anyone who thought, "It's impossible for Justin Trudeau to look any more delicious," should prepare to promptly rethink everything, because a brilliant and artistic soul has created a decadent — I mean that literally — sculpture of Canada's attractive prime minister for the Canadian National Exhibition (CNE). The unnamed artist crafted a butter statue of Justin Trudeau, recreating the PM's now-iconic panda cub unveiling at the Toronto Zoo in March 2016 for CNE's butter sculpting exhibition. I really can't believe it is butter.
You may remember Trudeau's adorable tweet on March 7, 2016, in which he shared a melt-worthy photo of him cuddling the Toronto Zoo's newest cubs and revealed their names (Jia Panpan and Jia Yueyue). The little babes held onto their country's leader tightly, and there's really nothing cuter.
So I can totally see why and how it served as inspiration for butter art.
Canadian journalist Tara Deschamps captured the Trudeau x Panda Cubs statue at CNE first-hand, tweeting a photo of it inside a refrigerated art studio. "@LetsGoToTheEX is buttering up @JustinTrudeau... literally," she wrote. (Yes, that blue plastic bag is filled with a huge chunk of butter. And yes, that's the original Trudeau photo hanging to the left of butter Trudeau.)
Is it just me, or is this the most brilliant idea ever? Even the pandas look precious in butter form — and they're the whole reason Trudeau made it into the exhibition anyway.
According to the CNE website, the 2017 butter sculpting theme is "Wild in the 6," and it features "Greater Toronto Area's most memorable animals." Ah yes, it all makes sense.
We can never forget this moment.
Never ever.
"Bow down..."
I'm obsessed. If you're one of those people freaked out by this much butter, well, IDK -- I can't relate.
Anyone in the Toronto area can stop by the CNE butter sculpting exhibition at Heritage Court from now until Sept. 4. It's open from 10 a.m. to 10 p.m.
You butter go visit it!