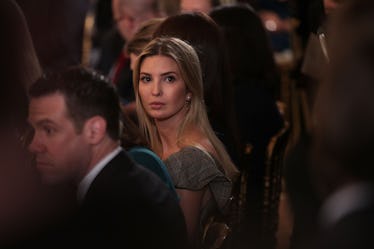 Ivanka Trump Might Not Want To Hear Dictionary.com's Word Of The Year
Alex Wong/Getty Images News/Getty Images
With one month left in the year, annual trends have made themselves clear, and the words we've been using collectively over the last 12 months are no exception. Dictionary.com announced its Word of the Year for 2017, and, no, it's not "covfefe." The word selected by the online dictionary as this year's standout is — wait for it — "complicit."
Per Dictionary.com, complicit means, "choosing to be involved in an illegal or questionable act, especially with others; having partnership or involvement in wrongdoing."
"We're so excited to announce that the Word of the Year is covfefe! JUST KIDDING! But it is complicit," read a tweet from the Dictionary.com official account. The online dictionary weighed in on the word's larger tone and implications. Being complicit is "decidedly negative," the company says in its statement, and "there's nothing positive or good about it."
The word carries intense implications for the current political climate, especially as it's been used often in reference to the Trump administration. "The word complicit has sprung up in conversations this year about those who speak out against powerful figures and institutions and about those who stay silent," says Dictionary.com in its announcement.
One user even replied to the Dictionary.com tweet by tagging the president's daughter, Ivanka Trump.
This year's word is not a huge improvement over 2016 in terms of how depressing it is. Last year, Dictionary.com's Word of the Year was "xenophobia."
"At Dictionary.com we aim to pick a Word of the Year that embodies a major theme resonating deeply in the cultural consciousness over the prior 12 months," reads last year's statement. The word xenophobia "serves as a symbol of the year's most meaningful events and lookup trends." The company's employees, lexicographers included, examine search data trends to agree upon the word that's been in high usage.
Dictionary.com tracked which points throughout the year users were looking up with word, and came across some interesting moments. The data were first shifted in favor of "complicit" in March of this year, the company reports, following a Saturday Night Live sketch in which Ivanka Trump, played by Scarlett Johansson, sells a fictional perfume by that name. The result? A 10,000 percent increase in daily average lookups for the word on Dictionary.com.
The next big spike in lookups came on April 5, after Trump herself made an appearance on a CBS This Morning interview, in which she said, "I don't know what it means to be complicit." The quote prompted an increased search of 11,000 percent. Nice.
Finally, some credit is due to Republican Senator Jeff Flake of Arizona, who in late October announced he wouldn't be running for re-election in 2018 in an emotional speech on the floor of the Senate, saying, "I will not be complicit."
Dictionary.com cites other specific cultural moments that also contributed to the word's rise this year. Sexual assault and harassment allegations, the Charlottesville protests, climate change denial, and social media's propaganda potential were all mentioned as ways in which the word has been referenced repeatedly in 2017. They list the Women's March and NFL protests during the national anthem as examples of refusals to be complicit made popular this year.
The word complicit "reminds us that even inaction is a type of action," says Dictionary.com in its statement. "The silent acceptance of wrongdoing is how we've gotten to this point. We must not let this continue to be the norm. If we do, then we are all complicit."
Perhaps more people in power will take the hint. Thanks to Dictionary.com's official choice this year, Trump no longer has an excuse to not know what the word means.