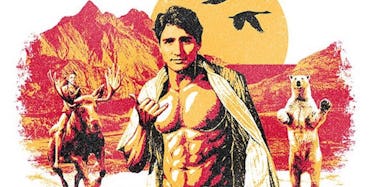 A Dreamy T-Shirt Featuring Justin Trudeau's Abs Exists And We'd Honestly Buy It
It's JT's world and we're just living in it. He grazes Rolling Stone covers, unleashes a fiery passion within fans, and gives everyone a reason to swoon. Oh, I guess I should clarify: I'm not talking about everyone's favorite pop star, I'm referring to everyone's favorite politician, Justin Trudeau. People are so enamored with the Canadian Prime Minister that his face and chest are now making their way onto clothing. Yes, a Justin Trudeau t-shirt featuring his hunky abs is something you can buy, and you better believe credit cards are swiping.
Matt Harris, on Twitter as @mattfharris, took to the social media site to provide a glimpse at the shirt that will inevitably sell out once people catch wind of its existence. It features a shirtless Justin Trudeau in a rural background with a bear and moose above the word "Canada" with a badass red font.  It's certainly... something.
Justin Trudeau Canada Shirt, $24, Headline 
Naturally, there are eager customers ready to make a purchase.
For those who can't take the suspense, the shirt is available at headlineshirts.net and they're on sale for $24 — not too pricey in the name of love for JT.
Recently, he showed his support for the LGBTQ+ community at Canada's gay pride parade, dined with Barack Obama and gave everyone a serious case of FOMO, and discussed the importance of making a feminist cabinet -- so all in all, people agree he is one woke prime minister.
Over in the states, one piece bathing suits of #45 have been released, and it's safe to say not everyone had the same reaction to Donald Trump's apparel as they did to JT's. (Better luck next time, Donnie.)
So if you're looking to make a political statement, or prove your thirst for Canada's leader, this shirt just might be for you. Happy shopping, Trudeau enthusiasts.